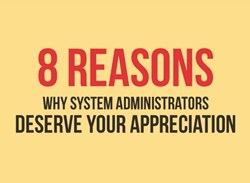 Palo Alto, CA (PRWEB) July 26, 2013
Today is the 14th Annual System Administrator Appreciation Day organized by sysadminday.com. CFEngine Inc., provider of the world's leading open source configuration management software, today released a light-hearted InfoGraphic to make clear why it supports the initiative.
"Without the work of System Administrators, our modern world would grind to a halt. There would be no financial transactions, no travel, no news, no energy, no supply of goods, no health care, no security and no fun and games," says Mark de Visser, CMO at CFEngine, Inc. "It is surprising that a large part of society takes all this for granted and has no concept of the work that goes into supporting the technology that enables our way of life. The System Administrator Appreciation Day is a great initiative to raise awareness of the role of the System Administrator."
The InfoGraphic describes the activities of system administrators, their tools, their education, and even their favorite drinks. It is available at CFEngine's blog (bit.ly/1c7EOhI) and can be freely republished by all online and printed media.
About CFEngine
CFEngine is the industry leader in automation of large-scale, software defined IT-infrastructure. It helps IT organizations improve productivity in times of growing demands and constrained resources. With CFEngine IT organizations provision new services much faster, while providing continuous availability and security compliance. Known for its ability to handle scale and complexity, CFEngine enables even the largest organizations in the world to become more agile. CFEngine has users in more than 100 countries, including many of the world's largest financial organizations, as well as companies like IBM, eBay, Cisco, Qualcomm, AMD, US Navy, US Energy Department, NASA, AT&T, Chevron and LinkedIn.