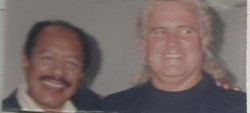 Ken Johnston is a compassionate man who stands up for those less fortunate.- SH
Los Angeles, CA (PRWEB) July 26, 2013
Rhode Island native Ken Johnston held numerous positions such as booking agent, business owner, talent manager and producer. Ken started out booking bands like New Country Sunrise on national and International tours which led to managing Smokin' Joe Frazier and "The Stepping Out Band" which toured nationally in the late 1970's. Ken Johnston died on July 14, 2013 of natural causes.
When the tour ended Ken Johnston headed off to Los Angeles CA and became a partner in Ken B Johnston & Assoc., a major talent management firm and became manager to Sherman Hemsley of "The Jeffersons" for 30 years. During this time, Ken managed seasoned actress Sybil Danning for several years and and various character actors and bands.
Ken developed stage plays such as "Norman Is That You?" starring Sherman Hemsley, won an award in Vegas for Best Produced Show with the Sherman Hemsley Show and contributed as producer to the NBC TV shows of the 80 's and 90's, Amen and Good Behavior.