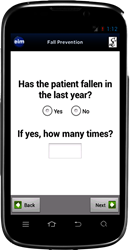 This application gives physical therapists a hands-on tool that allows them to ask patients a series of questions to determine their risk for falling.
(PRWEB) July 27, 2013
A new Apple iOS application launching today, developed through a partnership between Evidence In Motion (EIM) and Shubert Consulting, will help physical therapists in identifying and managing patients who are at high risk of falling and educating older adults on preventative actions. Every 18 minutes, an older adult dies from a fall and many of these falls can be prevented by early screening and intervention. Physical therapists are the ideal providers to lead this change in how care is provided and this app is a first step. It uses the most current evidence-based tools to mitigate and manage each patient's risk and is designed to guide a physical therapist through a simple but effective fall risk screen.
The Fall Prevention application is based on the Center for Disease Control's 2012 STEADI tool kit, which simplifies and standardizes fall risk screening for healthcare providers treating adults who are at risk of falling or may have fallen in the past.
"This application gives physical therapists a hands-on tool that allows them to ask patients a series of questions to determine their risk for falling," states Tiffany Shubert, PhD, MPT, EIM Faculty member and President of Shubert Consulting. "We put a great deal of time into the development to ensure it was user-friendly while also being a great resource."
Patients are asked subjective questions and given a physical evaluation and their results are entered into the application. The application then recommends strategies, interventions, and education to each patient based on their results. The Fall Prevention App also provides up-to-date resources and emails results to both the patient and the therapist. The Apple iOS Fall Prevention application costs $4.99 and is also available for Android.
The Fall Prevention App, the latest in EIM's family of applications, was created in a partnership with Shubert Consulting, a firm based in Chapel Hill, North Carolina with expertise in translating research into practical clinical applications.
To purchase the application, visit EvidenceInMotion.com/products/fall-prevention-app.
Please see attachments for screen shots of the Fall Prevention application.
About Evidence In Motion (EIM):
Evidence in Motion (EIM) is an education and consultation company whose sole reason of existence is to elevate the physical therapy profession and the role of physical therapists in healthcare delivery. A strong dedication to fostering the creation and assimilation of an evidence-based practice culture within the physical therapy profession is a cornerstone of Evidence In Motion's mission. They have put in place evidence-based practice treatment pathways in many facilities and aims to promote the global sharing of information and ideas, thus advancing evidence-based physical therapy practice, research and education around the world. Evidence In Motion offers Continuing Education, Residencies, a Fellowship Program, a Musculoskeletal Transition DPT, and an Executive Program in Private Practice Management with optional Transition DPT. For more information, please visit EvidenceInMotion.com. You can also find Evidence In Motion on Facebook and Twitter, @EIMTeam.
References:
Centers for disease control and prevention. Retrieved from http://www.cdc.gov/homeandrecreationalsafety/falls/adultfalls.html.