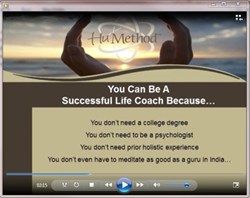 HLC's HuMethod is the first and only life coaching healing modality available in the world today.
(PRWEB) July 28, 2013
Professional Life Coaching Certification School Holistic Learning Center is releasing important information on why the HuMethod is truly unique to all other life coach training and certification schools, and why their graduates consistently build successful referral based practices in which they charge over $100 an hour. HLC is the only life coaching certification school that offers the HuMethod, a proprietary clinically proven, results driven training system that, after three decades of research and 15 years of clinical field-testing, has evolved into an empowering life coaching healing modality.
The HuMethod's college level training systems and self-help exercises have been proven to work on thousands of people when professionally implemented, and consistently create the permanent behavioral changes that our students and clients desire. There are four primary reasons why HLC's Certified Life Coaches build successful referral-based coaching practices and charge over $100 per coaching session.
One reason is that HLC's Certified Life Coaches begin by determining their clients most important self-help objectives through the facilitation of diagnostic exercises. These objectives then become clear and specific, professionally agreed upon goals. These goals are used as accountability benchmarks to prove that the client's self-help objectives are achieved.
The second reason is that HLC coaches implement systematic, empowering exercises to target their client's specific goals, which then create their desired permanent behavior change as quickly as professionally possible.
The third reason is that HLC coaches teach their clients how to use Advanced Adult Life Skills such as mature boundary protection, validating feelings, as well as relationship and parenting mastery techniques, so that their clients can live highly functional, emotionally mature lives.
Lastly, HLC coaches are taught how to apply sixteen professional coaching tools that formulate the HuMethod's well field-tested clinically proven self-help exercises into an actual life coaching healing modality.
HLC's HuMethod is the first and only life coaching healing modality available in the world today. Its creation mirrors the same as all legitimate healing modalities, such as chiropractic, which is created over a period of time that takes decades, not years. The Hu Method college level professional training systems for life coaches were developed based upon 54 clinically proven, psycho-spiritual exercises. HuMethod exercises are not magical, mystical or mysterious. They are sound, well field-tested education exercises that create permanent behavioral change for anyone who uses them as prescribed.