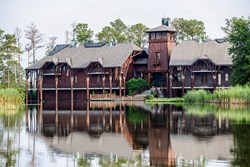 United Country is fortunate to be in a position to assist Ducks Unlimited in their mission.
Kansas City, MO (PRWEB) July 29, 2013
Ducks Unlimited is expected to get a major contribution to strengthen the organization's mission to conserve, restore and manage wetlands and associated habitats for North America's waterfowl. The owners of Tudor Farms – located outside Cambridge on the eastern shore of Maryland – have nominated United Real Estate to handle the sale of the roughly 6,500-acre estate, a portion of which will go to fund progress towards Ducks Unlimited's stated objectives. United Real Estate has tasked its affiliated partner United Country Real Estate to co-market Tudor Farms.
"United Country is fortunate to be in a position to assist Ducks Unlimited in their mission," said Dan Duffy, chief executive officer of United Real Estate. "Our organization has been a proud partner of Ducks Unlimited for years, and this recent endeavor is a strong example of our commitment to promote conservation and land stewardship."
Tudor Farms is a luxury estate, equestrian facility and professionally managed wildlife habitat on the east coast. This approximately 6,500-acre estate has been managed for a wide variety of native wildlife.
"I have visited Tudor Farms on several occasions and personally experienced its fantastic waterfowl, whitetail and Sika deer hunting. I can honestly say that I know of no other block of private wildlife habitat that has received more professional care and management than this property," said H. Dale Hall, retired Director of the U.S. Fish and Wildlife Service and current chief executive officer of Ducks Unlimited, Inc. "It is a phenomenal treat for anyone who appreciates being surrounded by high quality fish and wildlife habitat and extraordinary hunting opportunities."
Built in 1992, the main lodge at Tudor Farms features Adirondack natural wood construction and a unique design. It offers about 14,000 square feet with 180-degree views of the surrounding marshes. It boasts 11 bedrooms and 11 bathrooms, a media room, game rooms, yoga studio and staff quarters with kitchen. There is also a guest cottage and small lake adjacent to the lodge.
Both the lodge and Tudor Farms are supported by the management complex, which includes two residences, a farm office and maintenance shop, and several farm storage buildings. In addition, the property has a modest farmhouse with storage buildings and a clubhouse with additional accommodations.
Tudor Farms is equipped with a world-class 100x200-foot riding ring and 18 horse stalls. There is a fully automated 5-stand course and a fully equipped "picking house" to prepare game after hunting. Two guesthouses and a guest cottage provide additional accommodations, and an indoor tennis/sports complex allows for year-round recreation. Additionally, the property features several maintenance/utility buildings.
"Tudor Farms boasts a superb assemblage of prime recreational acreage adjacent to the Blackwater National Wildlife Reserve in Dorchester County with excellent populations of a variety of game animals," Duffy said. "Its close proximity to Baltimore and Washington or New York provides significant appeal to urban sportsmen. Tudor Farms is a unique resource that represents the culmination of 22 years of maturation and development."
Property details and photos can be found at MarylandSportingRetreat.com. United Real Estate can be contacted at 816-420-6295 or by email at info(at)marylandsportingretreat(dot)com for additional information or property showings.
A Closer Look at United Real Estate
Launched in 2011, United® Real Estate has been successful in establishing rapid growth real estate companies in five of the largest metropolitan areas in the United States. United Real Estate now operates company-owned and franchised real estate brokerages in the metropolitan cities of Dallas, Houston, Chicago, Philadelphia, Lexington, Kansas City, and Washington D.C. United Real Estate offices have been recognized as being among the fastest growing real estate companies in their individual markets. United Real Estate was recently highlighted in one of the real estate industries most respected publications, the Swanepoel TRENDS Report for 2013, as a "frontrunner" in rolling out the real estate office of the future. The United Real Estate system is currently being rolled out nationwide through a comprehensive franchise solution for real estate brokers in urban markets.