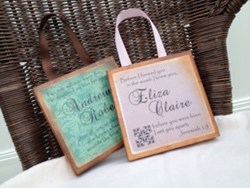 The tendency is the tendency to ignore. And that is painful.
Manchester, NJ (PRWEB) July 28, 2013
Businesses are born in all sorts of ways for all sorts of reasons. But what happens when a business is born from tragedy and how can this hope help spread awareness?
When Katy Larsen started bleeding in the second trimester of her pregnancy, she knew it wasn't good. She was naïve, however, and innocent. The doctors would surely have an answer and a fix, because babies don't die, do they?
And when she gave birth and held her tiny lifeless baby's body in her arms, Katy realized they do. She had no idea where to go from there. Even in today's world of utter connection, shared lives for every one to see, and brutal truths of political, social and religious topics, pregnancy and infant loss remain in the shadows. This leaves parents like Katy to stagger through their grief and their families and friends unsure of how to support them and help.
Since her loss, Katy has learned of the "babyloss community," a group of women who have suffered the same type of tragic loss. These are essentially the shadows that pregnancy and infant loss are hidden under.
"It feels as if we are an unnoticed community of bloggers and artists and grief-stricken mothers. Neglected, in a way. But we always have each other. This network of women remembering your baby with you when no one else does, because trust me, when it happens no one knows what to say or what to do. The tendency is the tendency to ignore. And that is painful," Katy stated.
It is one of the main reasons pregnancy and infant loss do require a greater awareness. There are many resources available on the internet on how to support the grief stricken family, but how many people actually use them? It is taboo and this wall needs to be broken. One in 4 pregnant women will suffer a loss. That's 25% of pregnant women. Deserve recognition? Katy sure thinks so.
When she lost her daughter, she took it upon herself to educate the 21 hospitals in her state of New Jersey on what to do in caring for a family who has suffered a loss. Hannah had a story that needed to be told.
"They were given a binder full of information and a hand-crafted memory box. I called the project "Delivering Hope for Hannah." She was born in an ER, no labor and delivery, and it was horrible. These people had no clue on how to handle a situation such as mine."
How could a hospital not even be educated or aware of this need? Doctors and nurses who have no idea how to handle the child or the family. That is just unacceptable, and yet it exists today.
This really birthed the idea and inspiration of the shop Katy created shortly after, Somewhere Over the Rainbow. It offers custom gifts of Remembrance and Hope.
"Hannah's tiny life is what moves my hands and my heart in creating each piece, together with my husband. It is a true labor of love, healing, and my way of mothering my lost daughter," states Katy.
What started off as a venture to comfort other grieving families, has gradually grown into a real business with the recent tag of LLC following its name. It is a big deal when a company can grow and change people's lives simultaneously. Each day bigger steps are taken in its growth. Its as if Hannah herself is growing bigger and bigger and her memory lives. All loss mothers require that validation.
Katy believes the shop encompasses the sacred connection between remembrance and hope through the support of those affected by pregnancy and infant loss. Resources such as these are needed for the grieving mother and to remind her of her child's importance.One can find memory boxes, memorial plaques, candleholders and ornaments for remembrance. One can find age blocks, name blocks, birth blocks and wall décor for hope. And they coexist. Grief meets grace. Love meets hope. Pain meets healing. Proceeds from remembrance items are used to gift other families on similar grief journeys.
If even one person reads this and can say, "Wow, I never understood how (blank) felt and now I do," Katy says she will be content. If that person offers the gentle support and remembrance that family requires, she will be thankful. If that person spreads that awareness onto the next person, she will be thrilled.
In breaking the taboo, one needs to first be educated through available resources such as the SHARE Organization, Faces of Loss, Faces of Hope and similar organizations that exist to inform and educate. Shop owners such as Katy often blog on topics these women face on their journey. Each woman wants their child remembered and would happily offer advice to one who doesn't know their challenges.
"We aren't taboo. We are mothers missing our babies."
Somewhere Over the Rainbow LLC is excited to announce their new website, their new angles at marketing and the new dreams and products that will follow. The goal all the while being to comfort, to hope, and to provide that awareness that is so desperately needed.