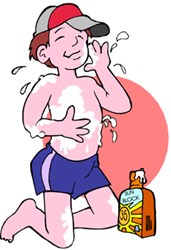 Get a tan with a safe and quick sunless tanning option.
New York, New York (PRWEB) July 26, 2013
Who can forget the "Tanning Mom" debacle of 2012, when New Jersey resident Patricia Krentcil was charged with child endangerment for bringing her underage daughter to a tanning bed session? The child was 5 years old at the time, and the uproar that followed lasted for months, with renewed emphasis on the dangers of excessive tanning and UV rays.
While Ms. Krentcil was cleared of the charges in early 2013, the incident sparked considerable debate, and since then, the state of New Jersey now bans people under the age of 17 from using tanning beds.
And, it is possible that the extensive coverage of that particular incident may have also ignited a growing demand from consumers for a safer way to get the "sun-kissed" look they are after.
Anyone looking at the leathery skin of anyone who has suffered skin damage or the potentially deadly results of skin cancer knows that excessive sun exposure is no longer a safe method for achieving a tanned look.
Thanks to the team at http://SunlessTanningProducts.net, there is a safer way to get "that look" from top self tanning products and they aim to spread the word far and wide. "Fortunately, more and more people are becoming wise to dangers of too much sun," explains a spokesperson from the company, who states that the demand for high quality sunless tanning lotions has risen 100-fold.
"Science has certainly come a long way since the 1960's and the days of 'QT'," the representative continues, smiling at the reference of "QT Tanning Lotion" which many people used in order to get a look of a tan without the sun. And although that product fell out of favor, partially because many complained of orange hands and skin, many refer to "QT" as the product that led the way for future products.
According to the folks at Sunless Tanning Products, there are now numerous methods to attain an even, natural-looking tanned color, including the popular Spray Tanning products.
In addition, the company is careful to include environmentally friendly, organic products in their line as well. Their goal and mission is to help individuals accomplish the look they are after, which, according to the company, "can sometimes do wonders in raising someone's spirit or morale. It's amazing, sometimes, how the smallest thing can make someone feel prettier or more handsome."
To learn more about the company and what it offers, please visit SunlessTanningProducts.net today for a preview of how easy it is to get the "tan" without the sun damage or otherwise sacrificing skin health.