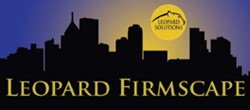 Our data provides the insight law firms need to make strategic decisions
New York, NY (PRWEB) July 31, 2013
Leopard Solutions, the premier provider of timely, accurate and complete online data on associates, partners, and law firms, today announced an important upgrade to Firmscape, a best-in-class competitive intelligence tool for law firms, legal recruiters, and law schools.
Firmscape now offers the broadest as well as the most comprehensive law firm intelligence tool available, offering data on over 1700 law firms across the country. Clients can run reports on every firm Leopard Solutions tracks, from the smallest to the largest in the country. Reports can track associate and partner lateral moves, promotions to partner, upsizing and downsizing of specialties and practice areas, starting salaries, and much more. The inclusion of over 1500 firms into Firmscape now allows law firms to research small firms for acquisition quickly and easily.
Leopard Firmscape was first introduced in January of 2013, offering legal professionals a multifaceted view of the firms, attorneys and partners they wish to research. Using Leopard Solution's proprietary blend of continuously updated first- and third-party research and data, Firmscape is a critical intelligence tool for firms and individuals considering their next move.
Though Leopard Firmscape continues to shine a spotlight on the top 200 firms, the expansion of the product to include an additional 1,500 firms provides a much more rounded view of the entire legal landscape. It is the only tool to provide detailed data on lateral attorney moves, within or between firms. Users may explore competitive intelligence by firm, practice area, specialty, location, or firm size.
Leopard Reports provide broad overviews of the market so that legal professions can ascertain a clear view of their competitors' market presence, practice areas and recruitment. The suite includes Status History, Practice Area History Report, Specialty History Report, Lateral Reports, Laterals by JD Year, Laterals by Type Report, Laterals by Practice, and Laterals by Destination.
"The market responded enthusiastically to Firmscape when it was first launched, and many of our clients asked us to expand the dataset to include a broader swatch of the market. Our users are telling us that the data provides them with the insight they need to make strategic decisions " explained Laura Leopard, co-founder and CEO of Leopard Solutions.
To request a demonstration of Leopard Solutions Firmscape, please contact sales(at)leopardsolutions(dot)com.
About Leopard Solutions
Leopard Solutions is the premier provider of timely, accurate and complete online data on associates, partners and law firms. Its flagship product, The Leopard List, was founded in 2002 on the philosophy that delivering current, high-quality and cost-effective candidate research solutions are critical in today's fast-paced world. The Leopard List continues to grow and has expanded nationally and internationally. Leopard Solutions continues to make technology improvements that best serve the needs of our clients.