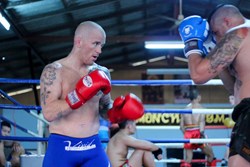 Every time he has visited we have seen a noticeable increase in skill from our fighters.

- Julius Park
Baltimore, MD (PRWEB) July 26, 2013
On the morning of Saturday, July 20, 2013, Kru Jose Villarisco paid a visit to Elkridge, Maryland-based Crazy88 Brazilian Jiu Jitsu to share his expertise in Muay Thai Kickboxing.
Villarisco, a former professional Mixed Martial Arts fighter, is an expert in Muay Thai kickboxing. Muay Thai is a style of martial arts which originated in Thailand. It has one of the most permissive rule sets - allowing its competitors to not only uses punches and kicks, but also knees and elbows. In Mixed Martial Arts events such as UFC and Bellator, this style has been proven as one of the most effective arts to master.
Head instructor of Crazy88, Julius Park, said, "Kru Villarisco's seminars have been a phenomenal addition to the Muay Thai program. Every time he has visited we have seen a noticeable increase in skill from our fighters."
As the head trainer of OutFox MMA gym, Kru Villarisco came to Crazy88 having been field tested and accomplished in martial arts. With years of experience (since age six) training, competing, and coaching, his body of work included work with multiple mixed martial arts fighters at the highest level of the sport: the Ultimate Fighting Championship.
With a busy competitive month in August, the students and competitors of Crazy88 were ready to take in as much as their bodies and minds could handle in this 150 minute training session.
Competitors Ricardo Mixco and Keeman Diop have signed on to compete August 3 in Muay Thai at Atlantic City's Battle at Bally's, and Professional fighter Aung la Nsang had taken the opportunity to compete MMA in Cage Fury Fighting Championships on August 17 also in Atlantic City.
This seminar followed Crazy88's pattern of bringing in the highest talents in martial arts to continue to produce elite level competitors. This is a list that included black belt world champions in Brazilian Jiu Jitsu, Olympic Judo player Nick Delpopolo, and highly credentialed Muay Thai fighters.
Have a great experience training kickboxing at Crazy 88 MMA academy at 7024 Troy HIll Drive, Suite L, Elkridge, MD 21075. Give us a call and ask about our 30 Day Free All-Class Pass. (443) 283-1450