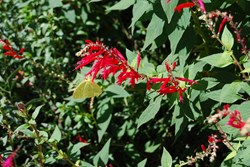 Sharps Chapel TN (PRWEB) July 28, 2013
Baby Boomers Mary Johnson and her husband Jim bought a log cabin on 50 acres, packed up their suburban life in Ohio and made the move to rural Sharps Chapel, TN for retirement. Adventurers at heart, the couple unearthed something new around every corner. Soon friends wanted to know more and join in on the fun too.
Mary, a Website designer and marketer, decided to start blogging about her adventures to make it easy for others to follow as she discovered the beauty of nature and the endless opportunities for enrichment and fun around Sharps Chapel.
Natural treasures can be found all around Norris Lake - if you know where to look. Lifestyle blog http://www.SharpsChapelLiving.com shares Mary's personal adventures on land and water, including ideas for what to do and where to go when you are tired of reading by the pool.
"You never know what you are going to see - timing is everything," says Mary. "We stumbled upon a turtle digging a hole in the middle of a dirt road to lay her eggs. The turtle urinated to make mud out of the dry dirt, making it easier to dig with her hind leg. If we would have been there a day earlier or later we would have missed it."
When avid hikers and kayakers, Mary and Jim, moved to the area three years ago they were excited about exploring nearby Chuck Swan Wildlife Sanctuary. While they were surprised to find that there were no traditional trails, they soon learned that the dirt roads opened up a world of opportunity. A nine-mile exploratory hike with friends to find Lost Creek Cemetery within the Wildlife Sanctuary led to the discovery of a beaver dam and a dirt road that ended at Norris Lake. This led to follow-up trips by water via kayak that took only 30 minutes to access the trail head.
This and other adventures are shared on Mary's blog.
Visit http://www.SharpsChapelLiving.com for more tales of adventure on Norris Lake.