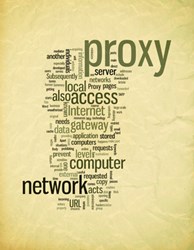 IP proxies are a superb starter-service for those wishing to circumvent censorship on their connection
Dallas, Texas (PRWEB) July 27, 2013
idcloak Technologies' latest release is the HTTP proxy list, a live database of over a thousand free servers from countries all around the world. The release is targeted at users whose internet access is restricted, preventing them from streaming videos on YouTube or logging in to social media sites like Facebook or Google+.
"IP proxies are a superb starter-service for those wishing to circumvent censorship on their connection," says idcloak's Robin Welles. "Because they are free and volunteer-run, the user needn't part with credentials to use them, and this gives them piece of mind if they are accessing content that their government does not want to be seen."
idcloak's release precedes the firm's launch of a VPN tunneling service by just several weeks.
Asked whether idcloak expects many of its IP proxy users to upgrade to a VPN, Welles was optimistic, "IP proxies are excellent for occasional anonymous tasks but they suffer from one weakness that makes them unsuitable for long-term application; the user can not know who is administering the IP proxy server. For many netizens in countries with strict regimes that leap of faith is too much to bear and keeps them away from regular proxy use."
Welles feels this drawback of IP proxies will greatly improve the desirability of the idcloak VPN as all of its servers are administered inhouse. But the question of user credentials remains, "Whether VPNs catch on amongst users in internet censorship countries depends partly on whether we manage to implement a payment scheme that fully protects user identity whilst also satisfying our obligations as a legitimate business. With a payment system like BitCoin, users in internet censorship countries could subscribe discretely. We are looking into the question."
For more information on web proxy use, Welles recommends idcloak's introductory article, Proxy Website.
idcloak Technologies, based in Dallas, delivers proxy services for improved security, privacy and freedom. See idcloak.com for more information.