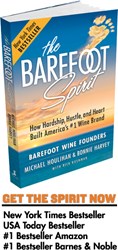 This book represents the principles I teach in my workshops and how a book can be a remarkable business tool for entrepreneurs and professionals. I congratulate the authors on the message they share in this interesting and timely book. - A. Dunams
San Francisco, CA (PRWEB) July 26, 2013
The Barefoot Spirit, written by Barefoot Wine founders Michael Houlihan and Bonnie Harvey, has made the New York Times Bestselling Business Paperback List for the months of June and July. In collaboration with award-winning journalist Rick Kushman, the authors wrote The Barefoot Spirit after attending Alicia Dunams' Bestseller in a Weekend workshops.
The Barefoot Spirit chronicles the unlikely events that launched Barefoot Wines and lays out the cornerstone business and lifestyle philosophies that made it an enduring success. The unconventional path taken by Houlihan and Harvey, especially their pioneering work in "worthy cause marketing," inspires readers to find their own creativity and determination to start something and bring it to life. The entertaining lessons woven into their 20-year business adventure story have kept The Barefoot Spirit on the New York Times Bestseller List for two consecutive months. Professors at three colleges have also made it required reading for their students.
Alicia Dunams, founder of Bestseller in a Weekend, states, "The Barefoot Spirit represents the principles I teach in my workshops and how a book can be a remarkable business tool for entrepreneurs and professionals. I congratulate the authors on the message they share in this interesting and timely book and wish them continued success."
The Barefoot Spirit can be purchased online at Amazon.com and Barnes and Noble. It is also available in formats compatible for Kindle, Nook, ePub, and iBook. Information about the book and the authors can be found at http://www.BarefootWineFounders.com. Information about Alicia Dunams and her Bestseller in a Weekend program can be found at http://www.AliciaDunams.com.
####
Alicia Dunams is the founder of Bestseller in a Weekend, a live online workshop that helps business professionals write, publish and market a non-fiction book in record time. Dunams also coaches her clients on how to promote their book and achieve bestseller status. To contact Alicia Dunams, please visit http://www.aliciadunams.com.