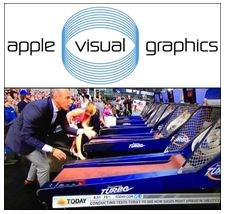 "We provide practical know-how and obsessive commitment to the highest quality. Servicing numerous industries, we have risen through the ranks by earning our reputation one job at a time, " said a spokesperson
(PRWEB) July 26, 2013
Apple Visual Graphics, a premier graphics and print production services company based in New York, is excited to announce that it recently provided the graphics for a Ryan Reynolds promotional event on NBC's The Today Show. The company's contribution to the popular daytime show highlights its professionalism and commitment to quality in the field of graphics services.
Apple Visual Graphics has been in the business of providing quality graphics for years, and in that time, it has consistently exceeded the expectations of its most discerning clients, including art directors, advertisers, and designers. The company is committed to providing the highest possible image quality on time and under budget with everything from offset printing to custom banners. Apple Visual Graphics also works with every client to ensure that each one's vision is achieved.
There are a number of services available from Apple Visual Graphics, including postcard printing, menu printing, Duratrans, vinyl signs, and many more. According to a spokesperson for the company, "We provide practical know-how and obsessive commitment to the highest quality. Servicing numerous industries, we have risen through the ranks by earning our reputation one job at a time." Any organization interested in fantastic graphics services and unparalleled service won't find a better source than Apple Visual Graphics.
About Apple Visual Graphics
Since it was founded in 1995, Apple Visual Graphics has accumulated extensive real-world experience building brands for its clients through quality printing and graphics solutions. One of its specialties is the use of technology and database development, which gives marketers the opportunity to make compelling campaigns. With graphics products and services as versatile as booklet printing and banner printing, Apple Visual Graphics is the perfect source for quality graphics in a wide range of applications. For more detail please visit, http://www.applevisualgraphics.com/.