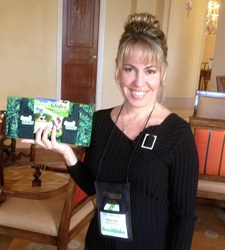 Green Glider appeals to a broad demographic and solves a problem. Although the product has a nice environmental aspect to it there is also a huge financial savings for the consumer over disposable mop heads.
Palm Harbor, FL (PRWEB) July 26, 2013
It's been a big week for Mom Inventor Tanya Lewis. No sooner than signing with Master Broker Jack Di Salvo, the team got the call from QVC saying that after their previous successful sold out appearance, the Green Glider Mop Pad is going on air for TWO Airings on Sunday, July 28. Just hours later, received notice that she had won the Mom Inventor of the Year Award from Blossom Ventures presented at the annual Women's Entrepreneurship Summit, sponsored by Wow! Is Me.
Tanya Lewis, CEO of the Green Glider Company, has sealed the deal with the newest member of the Green Glider team, Master Broker, Jack Di Salvo. Mr. Di Salvo will be working with Green Glider to place their products into a variety of retail stores.
Jack has been in the merchandise broker business since 1992 with success in various retailers launching lines like Homedics, Oxi Clean along with a variety of other As Seen On TV projects. With his extensive experience in retail, Jack has amassed a confederation of other brokers throughout the USA to bring new emerging products to market in Mass, Drug and Office super Store segments.
Jack said, "Over the years I've helped a variety of company's wanting to launch products and have learned what it takes to be successful. Green Glider appeals to a broad demographic and solves a problem. Although the product has a nice environmental aspect to it there is also a huge financial savings for the consumer over disposable mop heads. The extremely positive early reviews by customers reinforces my belief that once we get this product placed that it will sell extremely well."
The Tampa Bay dream team talent also consists of Marketing Director, Ben Rizzo and the company's CFO, Bryan McGuire who have been hugely instrumental in the company's growth this year.
After Green Glider's last sold out QVC airing that left many viewers on the "QVC wait list" for the product, the TV Shopping Channel immediately ordered 20,000 more to be shipped to the QVC warehouse for the next round, as the consumer products company has been given a Double Blast on QVC - 2 Green Glider Airings in one day, on Sunday, July 28. First airing is will be between 7am-8am EST, and the second airing will be between 10am-12noon EST.
As Tanya share, "This traction we are now seeing is what I have been diligently working toward every day for the past 4 years. To feel the intense level of excitement that selling on QVC brings is a dream come true! But TV Shopping is only the beginning. Jack's connections into retail are phenomenal. By being in stores, the Green Glider products will be able to sell to millions of consumers. Our Brand really will 'Sweep the Nation'!"
And what could be sweeter than the chi-ching sound of 20,000 mop pads flying out of the QVC warehouse? Tanya was named as Mom Inventor of the Year and will be honored at this years Women's Entrepreneurship Summit, a gathering of the top leaders in entrepreneurship, Venture Capital, and thought leaders from around the globe.
More About The Green Glider:
UPGRADE your Swiffer® type mop with the Premium Green Glider Mop Pad! Green Glider is the Original and the world's first washable, reusable and adjustable mop pad that is made with the revolutionary combination of MICROFIBER outside to Clean and SHAMMY inside to Absorb! It makes perfect sense to bring these two outstanding, hugely popular and proven materials together into one product! No other mop pad has Green Glider's Patented Dual Action Technology Microfiber/Shammy "combination". Finally you can clean AND absorb, while UPGRADING the mop you've already got! Green Glider's universal design and adjustable straps means that it is made to fit the Swiffer Wet Jet®, Swiffer Sweeper®, Swiffer Sweeper Vac®, Libman Freedom Mop®, O'Cedar ProMist®, Clorox Ready Mop® and any other standard size mop system with the 10" base whether your mop has velcro® on the bottom or not. But the mop isn't what actually cleans your floor, it's the "Mop Pad" that does the cleaning! This is where your performance and quality needs to be!!! Plus, the Green Glider Mop Pads are super durable and built to last. The brilliant combination of Microfiber AND Shammy makes Green Glider much more effective than disposable refills and any other cheap imitation mop pads. Plus Green Glider immediately eliminates the dreaded never-ending, repeat purchases of throw-away mop pads - so YOU SAVE MONEY! Where else can you get a high performance, top quality product that allows you to Save Money and Go Green at the same time? With the Green Glider Mop Pads, you can have it ALL!