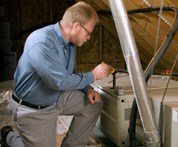 Wallington, NJ (PRWEB) July 31, 2013
NJ Weather reported on July 19th that the current heatwave in New Jersey has the heat index higher than in Death Valley – known as the hottest place in the United States. Across the Garden State, temperatures pushed 110 degrees and didn't let up for several days, driving people indoors and casting a pall on beaches, parks, and other public areas that usually thrive in the summer months. Business owners in New Jersey have reported that the heat is actually driving customers away and forcing some to even cut hours and close early rather than to tough out the sizzling heat.
This heatwave, which was caused by a large high pressure system over the eastern portion of the county, put New Jersey right at the center of these unbearable temperatures and had residents flocking to their air conditioners. As the heatwave dragged on throughout the week, staying indoors stopping becoming a choice and turned into a necessity for New Jersey natives who weren't expecting to tolerate this unbelievable heat without relief for days.
The heatwave has placed an enormous strain on Jersey residents, whether in high utility bills for the extra air conditioning, extra money at the pump for the strain of the car AC unit, and many others had to deal with a broken air conditioner from the lingering effects of this unusually intense bout of high temperatures.
During hot summer months, a broken air conditioner can become much more than an inconvenience. Heat can be deadly, especially to pets, children, and elderly individuals who depend on their AC units to bring them relief as the temperatures soar. Emergency AC repair service by Bogush Inc. can help soften the blow when your AC breaks down during a dangerous heatwave. By offering complete air conditioning services for commercial and residential areas done by highly skilled professionals, Bogush Inc. stands by a commitment to safety, accountability, and convenience combined with some of the fastest service times in the industry. The middle of a heatwave is never a good time to need AC repair, but if you take advantage of the 24/7 emergency AC service provided by Bogush Inc., this uncomfortable situation can pass quickly.