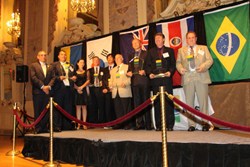 We are encouraging dealers across the world to step up and take initiatives toward environmental safety, not just for themselves, but for their families, community members, and country
Wilmington, Delaware (PRWEB) July 26, 2013
Winners from seven countries in four regions around the world were honored in Wilmington, Del., USA on Thursday night as the 2013 Environmental Respect Awards Ambassadors of Respect. Representatives from these winning businesses traveled to the United States to participate in a forum on sustainability and pick up the unique crystal trophy signifying excellence in environmental stewardship.
Those businesses honored as 2013 Ambassadors of Respect are:
Miyang Agricultural Cooperatives, Korea
Pukekohe Growers Supply, New Zealand
Nueva Agricultura Novagro, Costa Rica
Agro Amazônia Produtos Agropecuários Ltda, Brazil
El Condor S.A., Argentina
LLC Spectr-Agro, Ukraine
Debbane Freres, Lebanon
The Environmental Respect Awards, sponsored by DuPont Crop Protection, and conducted by CropLife® magazine and Farm Chemicals International® magazine, honor outstanding environmental stewardship among those who supply farmers with inputs crucial to safe and effective crop production around the world. These winners exemplify environmental care in areas of security, risk management, product handling and use, worker safety, and education and outreach to their communities.
The voluntary competition features a 100-question environmental stewardship self-audit and supporting evidence in the form of photos and written plans for safety and facility management. A global expert panel uses a web-based teleconference for the purpose of evaluating the competitors with judges online from the Asia-Pacific, Latin America, the Middle East and the United States.
"DuPont is committed to environmental stewardship throughout the world," said Rik Miller, president, DuPont Crop Protection. "By partnering with our global customers we have been able to establish the Environmental Respect Awards program worldwide. It is a great honor to work with these companies that share our respect for the environment and to promote sustainable agriculture."
The Ambassadors of Respect were presented their awards at a special ceremony at the Hotel DuPont in Wilmington. They also were honored at a Capitol Hill reception in Washington, DC and joined the national and regional Environmental Respect Award winners from the United States in discussions geared to progress in sustainable agriculture.
"We are encouraging dealers across the world to step up and take initiatives toward environmental safety, not just for themselves, but for their families, community members, and country," said Eric Davis, publisher of Farm Chemicals International. "The most important part of the World of Respect program is the encouragement of crop input distributors across the world toward one goal: environmental safety."
For the 23rd year, DuPont Crop Protection and CropLife magazine, the sister publication of Farm Chemicals International, have sponsored the Environmental Respect Awards seeking to honor farm supply businesses that preserve and protect the environment in the course of their service to their farmer-customers. It will be the ninth year the program has honored winners outside the U.S.
The Environmental Respect Award is the premier award for agricultural stewardship among agricultural retailers and distributors around the world. Since its inception in 1990, more than 5,500 local farm supply businesses in the U.S. have audited their facilities and shared the reality of their day-to-day environmentalism. In 2004, the effort went global and more than 500 businesses and 25 countries have participated. The initiative is sponsored by DuPont Crop Protection and conducted by CropLife Media Group and Farm Chemicals International.
For more information: http://www.environmentalrespect.com