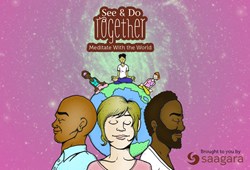 I believe that group meditation is an excellent way of raising global consciousness and improving people's well-being. - Dr. Nagabhushanam Peddi, CEO
Ann Arbor, MI (PRWEB) July 29, 2013
Michigan-based tech company Saagara has launched a campaign on the popular crowdfunding site Indiegogo to aid in the development of their new app platform See & Do Together. This platform will work in tandem with an included app, Universal Meditation, to allow users to engage in group meditation without actually sharing a physical space.
See & Do Together works on both computers and mobile devices. It will allow users of the free version to join sessions of their choice; paid users will have the ability to create their own events and record custom mantras. The user logs on and is able to view a list of meditation events soon to start or already in progress, including a short list of featured meditations. The Universal Meditation app also features an introduction to guided meditation, making the platform user-friendly for everyone from beginners to seasoned practitioners.
See & Do Together will be available worldwide, opening up its use to as many forms of meditation as possible. Saagara hopes to use this platform to attain one of their ultimate goals: one million people meditating in unison.
Saagara's goal is to raise $150,000 to fund the completion of this project. They've opted to pursue a crowdfunding approach because it allows current fans and new users alike to play a part in the development process.
Saagara was founded by Dr. Nagabhushanam "Bobby" Peddi in 2009. As a surgeon, Peddi witnessed the revolving-door mechanics of the healthcare system, and became very frustrated with merely treating symptoms instead of addressing the root causes of disease. He knew that there was a better way: beyond his medical experience, Peddi was raised in a family that practiced pranayama (deep, mindful breathing), japa (mantra meditation), and the like, which Indian cultures have used for centuries to maintain good health and greater mindfulness.
It wasn't until a near-death experience hurtling head-first towards the ground while skydiving that Peddi gained the resolve and determination to realize his vision. Peddi left medicine to form Saagara in 2009. Despite not having a background in business or technology, Peddi determined that a mobile app development company would be the best way to achieve his goals. It has taken 4 years to assemble the right team, and the essential knowledge and experience, to make "See and Do Together" a reality.
Saagara is already in the final development stages for See & Do Together. Though extensive product previews are still forthcoming, the platform has already generated extensive interest: at press time, the platform's Facebook page already has over 200,000 "likes", making it the largest meditation group currently on Facebook. Upon release, the See & Do Together platform will be available on Android, iOS, Mac, PC, and the web.
Saagara is a mobile app developer from Ann Arbor, Michigan. They're best known for their flagship app Pranayama, a virtual guide for deep, mindful breathing. Saagara's mission is to improve health by raising consciousness all across the world.