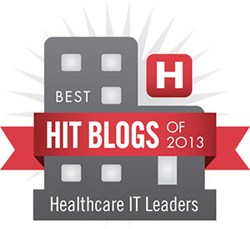 It's interesting to see the depth and diversity of HIT bloggers.
Alpharetta, Georgia (PRWEB) July 30, 2013
Healthcare IT Leaders, an award-winning consulting and staff augmentation firm that connects hospitals and health systems with top healthcare IT talent, today announced its picks for the Best Healthcare IT Blogs of 2013. The winning blogs were chosen for their timely content, insightful writing, and subject matter expertise on topics important to the HIT industry.
"The large number of blogs we found devoted to healthcare IT wasn't surprising given the overall growth in the industry," said Alex Gramling, Chief Marketing Officer for Healthcare IT Leaders. "But it was interesting to discover so much depth and diversity in the HIT blogging space.
"We found blogs devoted to mobile healthcare, electronic medical records (EMR), healthcare information exchanges (HIE), government and regulatory topics as well as general HIT news. The bloggers themselves were just as diverse—some are health system CIOs, others are academics or researchers, and still others are journalists or full-time bloggers," said Gramling.
Healthcare IT Leaders matches skilled IT talent to contract and full-time HIT consulting jobs. With two-thirds of healthcare employers reporting difficulties recruiting experienced IT workers, the firm helps hiring managers staff their EMR initiatives, ICD-10 projects, healthcare analytics and mobility needs. In 2013, Healthcare IT Leaders was honored by Staffing Industry Analysts as one of the Best Staffing Firms to Work For in the US.
The complete list of winners for the Best Healthcare IT Blogs of 2013 can be found on the Healthcare IT Leaders blog at: http://www.healthcareitleaders.com/blog/healthcare-it-leaders-announces-the-best-healthcare-it-blogs.