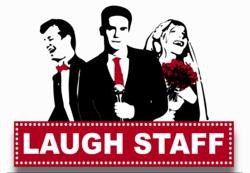 Cleveland, OH (PRWEB) July 30, 2013
This week, Laugh Staff, the company that writes and edits best man speeches, was featured in the entertainment section of the DailyCandy's website. The attention was for the Grade My Speech service Laugh Staff announced several weeks ago.
"As a new company, it's great to get pick up from a website like the DailyCandy," said Laugh Staff co-founder Cameron Amigo.
The Grade My Speech service lets Laugh Staff review a speech for length, scale of appropriateness, comedic value and interest level. After reviewing this criteria, Laugh Staff assigns a grade to the speech with a report back to the bride.
"A review goes back to the bride because she has control over everything on her wedding day: the dress, the food, the hall, everything," said Amigo. "Her day shouldn't be ruined because of a potentially rude or lewd best man speech."
Since it opened its doors earlier this year, Laugh Staff has helped over 25 clients write and deliver successful best man and maid of honor speeches. They want everyone to know that they realize it is the client's speech; Laugh Staff just wants to help make it better.
For more information about Laugh Staff, Inc. visit http://www.laughstaff.com, call 740-706-6690 or email info(at)laughstaff(dot)com.
About Laugh Staff, Inc:
Laugh Staff, Inc. was founded in 2012 by a team of comedians and writers in Cleveland, Ohio. Laugh Staff helps their clients with best man speeches as well as providing best man speech examples on their blog. They assist best men and maids of honor in speech-editing, speech writing, and provide training on speech delivery. Recognizing the importance of the big day, Laugh Staff's professional comedians work with best men and maids of honor to ensure they make a lasting impression.