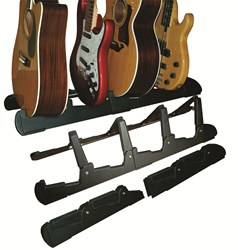 Another innovative product from a creative and environmentally-conscious company which has the potential to once again improve efficiency for musicians, road crews and retail stores. We're excited!
Gruhn Guitars, Nashville
Nashville, TN (PRWEB) July 29, 2013
Fabricated from light weight industrial grade recycled ABS composite, Cooperstand's® Pro-Multiple Instrument Stand makes a positive contribution to the environment. Pro-Multi's highly durable design securely provides excellent full sized support for acoustic, electric or bass guitar, ukulele, mandolin, and more. Pro-Multi is an innovative accessory that easily handles the demands of cluttered on stage use, and provides unequaled portability.
KEY COOPERSTAND PRO-MULTI STAND FEATURES

Convenience: securely supports 2 instruments per unit
Versatile: supports a large variety of instruments
Portable: weighs less than 2.5 pounds
Compact: stands for 12 instruments = 4"x8"x20" and 15 pounds
Stable: low, wide center of gravity
Secure: extremely stable design
Safe: no exposed sharp edges, nitro finish safe inert silicon padding
Durable: steel reinforced first run recycled ABS composite construction
Projected street price is $50-60USD Cooperstand
Kickstarter project – kickstarter.com.
Cooperstand products are designed and marketed by performing musicians for musicians. Cooperstand is a Registered Trademark of Coopercopia LLC.
All Cooperstand products are patented.