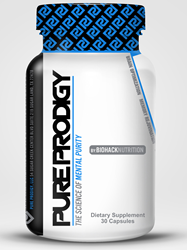 Stratified analyses showed that LGNC-07 (L-Theanine) improved memory and selective attention
Houston, Texas (PRWEB) July 28, 2013
Later this summer, a brand new brain supplement called Pure Prodigy is scheduled to be released by Biohack Nutrition. According to the company's website, the nootropic supplement will contain a blend of natural ingredients designed to deliver a host of cognitive enhancement benefits, most notably memory enhancement. One of Pure Prodigy's key ingredients L-Theanine has been shown in studies to increase memory and alertness in test subjects.
The study, conducted by a team of Korean researchers, was a randomized, double-blind, placebo-controlled study of 91 subjects with mild cognitive impairment. In the study, 45 individuals (13 men, 32 women) were given 1,680 mg of L-Theanine while a group of 46 individuals (12 men, 34 women) received a placebo that was an equivalent amount of maltodextrin and lactose. Both groups followed their dosage regiments for 16 weeks, and at the end of the period, neuropsychological tests and electroencephalography were conducted to determine the effect of L-Theanine on memory and attention.
According to the study's findings, "Stratified analyses showed that LGNC-07 (L-Theanine) improved memory and selective attention."
Biohack Nutrition founder Jonathan Weisman said, "L-Theanine is a major ingredient in Pure Prodigy. We've seen how it has performed in studies, and there is also strong anecdotal evidence that shows L-Theanine really does help increase memory and alertness. We have no doubt that Pure Prodigy users will experience these same great benefits."
In addition to L-Theanine, Pure Prodigy is said to contain other brain and memory supplements, including Serinaid, L-Tyrosine, Alpha GPC, Vinpocetine, and Pterostilbene, amongst other ingredients.
"Pure Prodigy is loaded with safe, natural ingredients that can help you improve the performance of your brain," said Weisman. "We've spent years researching and developing this product, and we're excited for it to be released soon. Stay tuned to our website for more information about its release."
To learn more, visit http://www.PureProdigy.com.