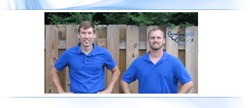 There are some many options that a Home Owner has to consider when buying a fence or deck in the Charlotte Area. We just wanted to provide a resource to help them understand their options and avoid any unnecessary complications.
Charlotte, NC (PRWEB) July 28, 2013
Charlotte Fence Company - Carolina Deck and Fence announced today that is has released a Fence & Deck Buyers guide.
There are a number of options and things to consider as a consumer looks to have a new fence or deck built in their home. Luke Chapman and Brian Wheeler developed the buyers guide because they want their customers to make an informed decision. Some things to consider are the type of fence (wood, vinyl, composite, etc), primary goals for the fence (privacy, protection, etc) and how much maintenance they want put up with.
The guide walks consumers through the fence and deck selection process covering specific questions that the consumer should consider, their goals for the fence, the different fencing options, how to select a quality fencing contractor and specific questions they can ask to avoid being ripped off.
The Fence Buying Guide can be downloaded for free at http://carolinadeckandfence.com/deck-fence-buyers-guide.
About the company:
Carolina Deck & Fence is a leading provider of fence & deck design & installation services. They specialize in crafting custom decks and fences that are built to last for customers throughout the Charlotte, NC Area. More information can be found at http://carolinadeckandfence.com.
Charlotte Deck and Fence
2010 Sandy Porter Rd #106
Charlotte, NC 28273
704-490-4480