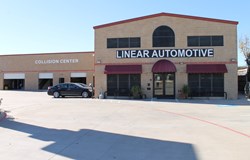 Richardson, TX (PRWEB) July 27, 2013
Contact Linear Automotive when needing the best auto repair mechanic in Richardson, TX. The shop has recently upgraded its auto repair shop to be able to handle just about any and all services that a vehicle may need in Richardson. View more at the website http://www.linearautomotive.com. Linear Automotive is a complete automotive service center that has advanced tools and equipment to handle all makes and models for people in Richardson, TX. A simple filter and oil change can be handled quickly and easily as well as major engine problems.
Water pumps and timing belts usually go hand in hand. Experts often say that if a timing belt or chain is to be replaced, then the water pump should as well in most cases. When a person considers the expense of going through this type of procedure, it makes sense to spend a few extra dollars to cover something that will help prevent a future failure of that part which is going to expire as some point anyway. There is no extra charge to install the water pump in most cases because it has to come off anyway with the timing chain, so a person is only paying for the part. Linear Automotive feels very strongly about educating folks in Richardson about automotive services to help save money, and this would be a fine example of that.
Anyone looking for the best and most affordable auto repair in Richardson will be well rewarded for contacting this complete service center. The staff is very knowledgeable and the auto mechanics are fully certified. The technicians undergo extensive training to earn ASE certifications which is short for Automotive Service Excellence. What this means is that to earn certification, the mechanics have to pass specific testing and criteria which proves that the capability to properly work on, and maintain automotive vehicles has been achieved.
Everything from multi point inspections to factory scheduled maintenance is offered at affordable prices. German and European cars are a specialty at this shop. Services for BMW, Mercedes, Lexus, and Infiniti can be done every bit as well as at the dealership, but without a price that breaks the bank. Linear Automotive is commonly referred to as the perfect dealer alternative in Richardson. The technicians at this auto repair service center undergo the same training and certifications as the dealer for ASE.
A person who has been in an accident and needs a full service auto body repair shop in Richardson will find the best services and prices at this state of the art collision repair facility. The Italian style down draft paint booth provides a showroom finish every time. Linear Automotive can handle anything from a small fender bender requiring a few dings or dents repaired all the way up to a major accident that needs frame straightening services.
Regular factory scheduled maintenance is something a lot of people forget or just do not pay much attention to. While some people may think avoiding these services is saving money, the contrary is actually true. By taking the time to perform regular maintenance, the lifespan of the vehicle is actually prolonged. To keep a car running smoothly for many miles to come, it is very important to keep everything properly maintained according to the vehicle manufacturer's specifications. This will actually help prevent future breakdowns, requiring people be forced into finding an auto repair mechanic in Richardson as frequently.
One of the recent upgrades in the auto repair shop are the new lifts. These hydraulic workhorses do all the heavy lifting for the mechanics - literally. Suspending a vehicle properly in the air makes it much easier to access vital components that need attention like fittings around the front end that need lube. Front end lube is actually one of the services that falls under the factory scheduled maintenance mentioned earlier. Avoid needing extra services done to a worn down and failing front end, which will require finding quality auto repair in Richardson, by following proper maintenance procedures.
With all the recent upgrades, Linear Automotive is the premier service center providing affordable auto repair in Richardson, TX. Anyone in North Dallas will be pleased with the professional certified service of the mechanics, affordable pricing, and five star customer service. Be sure to check the online reviews to see why so many people in the cities around the North Dallas Area choose Linear Automotive.
Call Linear Automotive at 972-633-2201 or visit the website at http://www.linearautomotive.com.