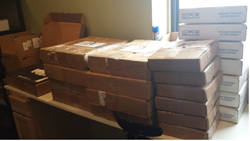 Gophermods' repair program is quick, dependable, and the education discount we receive makes it much cheaper than going back to Apple.
(PRWEB) July 29, 2013
It's becoming an all too familiar scene in the classroom. A loud clatter followed by a small child holding a broken iPad. It was an accident, maybe it wasn't; either way that sound means another debit to the school's technology budget or a bill to the student's household to fix the broken device. We have heard the benefits of having technology in the classroom and in years to come one-to-one iPad programs will only continue to grow. It seems however, many schools overlooked how expensive it would be to maintain these devices.
Insert Gophermods, an Apple iPad repair depot that presents a new, cost-effective alternative to traditional replacement options. Becky Musich, technology director at Waconia Public Schools, stated, "Gophermods' repair program is quick, dependable, and the education discount we receive makes it much cheaper than going back to Apple. Placing an order is stress-free and streamlined too, they set me up with an education account that reflects our district's discount and allows me to get the iPad shipped out to them in a matter of a few clicks. Lastly, the custom dashboard allows me to quickly reconcile invoices for that month and check the status of my repair".
Pat Profita, Gophermods Education Director, shared a few tips about what to consider when courting an Apple iPad Repair Depot:
1. Fast turnaround time, it's important to get technology back in the hands of the most important person, the student.
2. Strong warranty, shops should stand behind their work, for a long time too.
3. High-quality parts, it's not enough to get the job done, it should be done well. Many low-quality screens can crack from things as simple as temperature change. Depots should also rework damaged corners and replace bezels when need be.
4. Open lines of communication, delays do happen, but it's important that you are kept in the loop and informed on the status of your order.
5. Fair pricing, schools are on limited budgets, end of story.
Gophermods offers an industry leading one-year warranty and mail-in orders are turned around in 24 hours. All orders receive complimentary inbound and outbound UPS .
Ground shipping. In need of an Apple iPad Repair Depot? Contact Gophermods' main support line at 612-354-2937 or contact Pat Profita for pricing at patrick(at)gophermods(dot)com.
---------------------------------
About Gophermods
Gophermods is a Minneapolis-based company that specializes in consumer electronics repair. Each year, Gophermods repairs thousands of consumer devices with OEM parts and professional know-how. Gophermods is the one stop shop for full-service game console, iPad, iPhone, iPod and Smartphone repairs.
Gophermods is Accredited though the Minneapolis-St.Paul Business Bureau and is a Proud Member of the Minneapolis, MN Chamber of Commerce.
Gophermods
1170 15th Ave SE
Minneapolis, MN 55414
612-354-2937