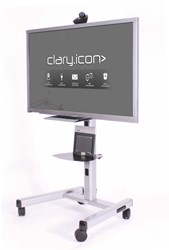 "As a user-friendly visual collaboration system that brings together video conferencing, interactive whiteboarding and computing on a single screen, the OneScreen is an exciting addition to our line up," said Steve Garber, President of BP Marketing.
San Diego, CA (PRWEB) July 29, 2013
Clary Icon will work closely with BP Marketing Group to provide sales, support and training services to integrators and resellers in the Midwestern United States.
"The BP Marketing Group has an established reputation as a knowledgeable, effective sales team with deep industry experience that is soundly focused on manufacturer and dealer success," said Sufian Munir, CEO of Clary Icon. "The BP Group is a natural fit with the Clary Icon team and will be a strategic presence in the central Midwest region as we continue to build out our independent sales representation across the country."
"Clary OneScreen is a distinctive conferencing and collaboration solution that integrates well in our existing line card," said Steve Garber, president of BP Marketing. "The OneScreen is a fully integrated visual collaboration system that cost effectively makes executive offices, smaller conference rooms and ad hoc work spaces far more productive by bringing video conferencing, advanced interactive whiteboarding and computing together in a user-friendly package. We're excited to bring this solution to our dealer base."
About Clary Icon
When meeting room technologies work together, companies realize the benefit of people working together. Clary Icon manufactures the award winning Clary OneScreen, an interactive video whiteboard. The Clary Onescreen combines video conferencing, interactive whiteboarding, unified collaboration, and computing into a single, integrated solution—so people and technology interact naturally. Headquartered in San Diego, Clary Icon has offices in Miami, Colombia, and Pakistan. See how we're working together at http://www.claryicon.com.
About BP Marketing Group
BP Marketing Group, LLC is an energetic, result-oriented manufacturer's sales and marketing rep firm with an established reputation of integrity and hard work. BP is located in Minneapolis, Minnesota and serves a seventeen state central Midwest territory covering Minnesota, North Dakota, South Dakota, Iowa, Nebraska, Kansas, Missouri, Wisconsin, Illinois, Indiana, Michigan, Ohio, Kentucky, Colorado, New Mexico, Utah, and Wyoming. Find us at http://www.bpmarketinggroup.com..