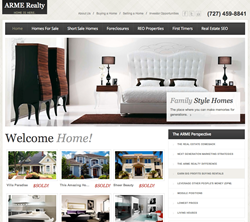 Clearwater, FL (PRWEB) July 27, 2013
Real estate internet marketing services are now available nationwide. ARME Realty, a web design and development company located in Clearwater, FL has announced the release of a new web development program designed specifically for the development of internet industry related websites.
The program the company is releasing contains all of the services that they use for the development of all of their clients websites. The main difference is the keyword data that is researched and used to build out the contents of the website.
"Many hours of research and development have been spent acquiring all of the best data to be used for specific types of real estate related websites. We are very well aware of the many niche areas that exist in the real estate industry. As such we have taken the data we compiled and broken it down into specific categories. That way we can then use only the data related to the area of real estate in which the broker or agent does business, states Simon Landers, spokesperson.
A solid internet marketing services strategy is essential for real estate professionals to get ahead in the digital age. The company offers their services for a flat fee of as little as $199 a month, and the spokes person states there is no long term commitment required. Call the company to request a brochure at (727) 459-8841.