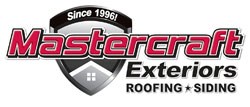 Our team at Mastercraft Exteriors has a sole purpose of serving customers and to restore peace of mind
Rockton, IL (PRWEB) July 29, 2013
Mastercraft Exteriors has been awarded the distinguished honor of being named the 2013 Talk of the Town for Excellence in Customer Service by Talk of the Town News, Customer Care and Celebration Media US.
The national roofing and siding company was given the accolade for the second year in a row by achieving the highest rating of 5 stars for excellence in customer service. The Talk of the Town 5 star rating given to Mastercraft Exteriors is based upon customer reviews, surveys, blogs, social networks, business rating services and other award information.
Founded in 1996, Mastercraft Exteriors is a family owned and operated roofing and siding company who specializes in storm restoration for residential and commercial customers. The company is proud to be a founding member of the United Association of Storm Restoration Contractors and is a National Platinum Preferred Contractor with Owens Corning.
Mastercraft Exteriors has proven to be a pioneer in the home restoration industry with its continued high ratings with the BBB as well as countless accolades and accreditations from numerous nationally recognized organizations like ABC Supply, Owens Corning, and Certainteed. "Our team at Mastercraft Exteriors has a sole purpose of serving customers and to restore peace of mind" says insurance specialist Carrie Williams. "Providing the best possible customer service is what motivates us to continually raise the bar for our industry standards as well as education standards for our employees."
The Mastercraft family also takes an active role in supporting numerous community outreach and charity programs. The company's mortgage specialist, Kara Hastings, says "When volunteering, it gives you a sense of humility and allows us to grow not only as individuals but as a company. We are able to make a positive impact on our community and its future, while gaining valuable life experiences." The company has worked with many organizations such as the March of Dimes, Walk to End Alzheimer's, PAWS, Maya's House as wells as various schools, food pantries, blood drives and many more.
For more information call 877-ROOFS-02 or visit http://www.mastercraftexteriors.com/index.html