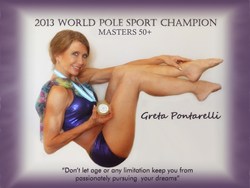 "Don't let age or any limitation keep you from going passionately after your dreams. "
London, England (PRWEB) July 29, 2013
Delivering an engaging and inspiring performance, 62-year old American athlete Greta Pontarelli won the Master's (50+) Division at the World Pole Sports Championships at York Hall in London, England. The competition hosted more than 150 of the world's finest pole artists from over 28 countries as crowds flocked to see them exhibit their jaw dropping skills. The International Pole Sports Federation (IPSF), home to the World Pole Sports Championships (WPSC) is a not for profit organization whose aim is to get pole sports competitions into the World Games and the Olympics. Pontarelli's winning performance can be viewed on YouTube.
In June Pontarelli qualified for the 5th Annual International Pole Championships (IPC) to be held in Singapore on November 30, 2013 and has another World-title in her sights. IPC requires no compulsories where Pole Sports has ten required advanced compulsory moves that are scored along with the artistic value. She was one of three Master competitors to be chosen worldwide by the International Pole Dance Fitness Association in June earning her a coveted spot at the IPC event.
Pontarelli, the world's oldest international pole sports champion, made a lasting impression on the pole world when she won the 2012 Southern Pole Championship Masters Champion title, and followed that by nabbing the 2013 Pacific Pole Competition Masters Champion and Artistic titles. In 18 short months, she climbed closer to the World-title as she competed in events across the U.S. winning both the Artistic and Championship Master Divisions in the 2013 Southern Pole Championship in Miami. Her Facebook page is filled with praise from fans and pole artists alike who find her empowering energy a positive force in their lives to continually become the best that they can become.
Pontarelli, a 5-foot 4-inch bundle of kinetic energy, often outshines athletes 20 years her junior. "The World Pole Sports competition was a challenge for me not just physically, but mentally to create a routine with 10 advanced and quite difficult compulsory moves where my artistry wasn't compromised," said Pontarelli. "Weeks before the competition something drove me to make it happen. I knew that when the adrenaline was flowing difficult moves became much more doable." Pontarelli's determination was rewarded with the Masters Division crown in London. While Pontarelli is at one end of the competitive age spectrum, pre-teen girls are now competing. At the championships in London a 10-year old Russian native, Olga Trifinova became a World Champion in her age group.
Pontarelli says, "Don't let age or any limitation keep you from going after your dreams. Pursuing her own dreams, the last two years Pontarelli was featured on the American Ninja Warrior TV show and was the oldest person to ever attempt the course. This year she was invited to audition for the TV taping of America's Got Talent and embraced the opportunity to inspire others.
She took up pole just over 3 years ago when she saw women her age suffering from osteoporosis. She found that it was an artistic and fun way to build muscle and bone strength, and says pole exercise achieves that and more. She states that it also develops flexibility and improves coordination and balance.
Pontarelli competed nationally as a gymnast and was named the 1966 Pennsylvania Floor Exercise Champion. In1976 she won national awards as a martial artist. She puts the same 100 percent into her sport that she has put into successfully raising a family and her life. She founded an international life coaching business in 1997 and is a mentor motivational therapist who empowers others to make choices that manifest a fulfilling life. She is one of the presidents of the International Masters of Vertical Arts and is featured in the Age of Happiness Project. Her current dream is to win the 2013 Master's Division IPC title, but it is not likely she will stop there. Her mottos are "have your reach exceed your grasp" and "don't ask for a lighter load in life, develop stronger shoulders."