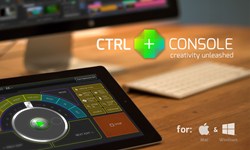 "Straight out of the gate this app provides you with a well thought out, sleek and very intuitive interface that makes serious video editing, with serious tools, simple." - Robert Gordon
Boulder, Colorado (PRWEB) July 30, 2013
Keyboards were designed for typing, mice are slow and control surfaces often cost upwards of $3,000. CTRL+Console is a new iOS app that brings the speed and power of control surfaces to everyone by turning the iPad into a gesture and touchscreen interface for your computer running Final Cut Pro™, Adobe Premiere™ and Quicktime™. It is available now on the App Store™.
"Straight out of the gate this app provides you with a well thought out, sleek and very intuitive interface that makes serious video editing, with serious tools, simple." - Robert Gordon
Creative professionals use keyboard shortcuts because they are faster than the mouse. But those shortcuts often take years to memorize and create the steep learning curve that slows the process and scares people away from professional creative software. Keyboards were not designed for the creative work so many of us do every day. It's time for a new way.
Funded on Kickstarter™ and demoed from Adobe's booth at the National Association of Broadcaster's tradeshow (NAB), CTRL+Console is an iOS app that transforms the iPad from a content consumption device, into an essential tool in content creation. It is modelled after hardware interfaces like the Lightworks™ console to bring expensive and custom tools to everyone in an app that combines the easy usability of a touchscreen interface with the intuitive flexibility of gestures. Allowing both amateurs and professionals to benefit.
Keeping your eyes on the footage is essential for editing and CTRL+Console's unique gesture system allows editors to cut an entire sequence without ever having to look down at the iPad. Jog and shuttle with frame-by-frame accuracy, mark in's and out's, and insert the clips into your timeline with easy-to-learn gestures that can be executed anywhere on the iPad.
Set up is simple. Download the free CTRL+Console desktop app to your workstation and connect your iPad via WiFi or an adhoc connection. Whether at home or on the go our proprietary networking protocol provides immediate, hardware-like responsiveness.
Quicktime console comes free with the app. Additional consoles for Final Cut Pro and Adobe Premiere are available as in-app purchases. Compatible with Win XP+ and OS X 10.6+.
CTRL+Console is designed to empower creatives to focus more on art and less on operation.
(Available now on the App Store)
Console Pricing and Compatibility:
Quicktime CONTROLLER (free): Playback controls for Quicktime 7 & X on Mac and PC
Final Cut Pro™ CONTROLLER ($5 in-app purchase): Transport controls for FCP 7 & X
Final Cut Pro™ EDITOR ($30 in-app purchase): Full edit controls for FCP 7 & X
Adobe Premiere™ Pro CONTROLLER ($5 in-app purchase): Transport controls for CS 5.0, 5.5, 6.0 and CC on Mac and PC
Adobe Premiere™ Pro EDITOR ($30 in-app purchase): Full edit controls for CS 5.0, 5.5, 6.0 and CC on Mac and PC
About CTRL+Console
CTRL+Console was founded in Boulder, Colorado in 2012 and funded by 888 backers on Kickstarter with the mission to enable a whole new generation to unleash their creativity. Press and accolades include a feature in Mashable Tech and an invitation to demo from Adobe's booth throughout NAB 2013. CTRL+Console is the brainchild of Jeff Chow, a professional photographer and technologist who found himself facing the same challenge that many creatives around the world face everyday - the desire to make art, but held back by the difficulty of software. CTRL+Console is designed to solve that.
(Apple™, the Apple logo, iPad™, Quicktime™, Final Cut Pro™, Adobe™, Adobe Premiere™ are registered trademarks. Any other trademarks mentioned herein are the property of their respective owners.)
For more information visit http://ctrlconsole.com.
Press assets can be obtained at http://ctrlconsole.com/press.
Evaluation copies available upon request.