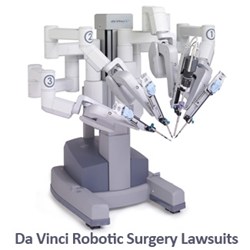 If you or a loved one has been injured by a Da Vinci Robot Surgery contact Wright & Schulte LLC, a leading medical device injury law firm today at 1-888-365-2602 or visit www.yourlegalhelp.com
Columbus, OH (PRWEB) July 28, 2013
The Da Vinci Robot Lawsuit lawyers at Wright & Schulte LLC are disturbed by the story of one woman who allegedly suffered Da Vinci robot surgery complications after a piece of an instrument was left inside her. According to KATU TV, Heidi Carlson underwent a hysterectomy with the Da Vinci Robot Surgical System last September. While she complained to her doctors for months about the intense pain she endured afterwards, she was unable to convince them that anything was wrong. She received no relief until a CT scan revealed the piece of the Da Vinci Robot surgery instrument inside her body. Ms. Carlson told KATU TV that she would have considered other options for her hysterectomy if her doctors had offered them. She chose to tell her story so that other patients won't have to experience what she did. [katu.com/news/local/When-surgery-
by-robot-goes-wrong-216532871.html July 2013]
Wright & Schulte, LLC specializes in defending the rights of those who have sustained serious injuries after using defective products and dangerous drugs. Our skilled Da Vinci robot lawsuit attorneys are experienced at successfully going up against large corporations. We encourage those who believe they have sustained Da Vinci robotic surgery complications to speak with our knowledgeable lawyers by visiting yourlegalhelp.com or by calling 1-800-399-0795.
The Da Vinci Surgical System is a robotic surgery platform that is increasingly being used for hysterectomies and other minimally invasive surgeries. However, a growing number of Da Vinci robot lawsuits and injury reports have raised questions about its safety and effectiveness. On April 19th, for example, Intuitive Surgical, Inc. the manufacturer of the Da Vinci Surgical System, disclosed that it had been named in 26 Da Vinci surgery robot lawsuits, all of which allege negligence on the part of the company resulted in serious Da Vinci complications. [sec.gov/Archives/edgar/data/1035267/000119312513162385/d508282d10q.htm, SEC Filing, April 19, 2013]
On July 16, the U.S. Food & Drug Administration (FDA) issued Intuitive Surgical a warning letter after an inspection of its headquarters in Sunnyvale, California, revealed several problems in need of correction, according to a report from Bloomberg.com. Among other things, the FDA voiced concerns with Intuitive's process for reporting device corrections and adverse events.
[bloomberg.com/news/2013-07-18/intuitive-surgical-declines-on-warning-letter-from-fda.html, Bloomberg, July 18th, 2013]
According to an earlier Bloomberg.com report, the FDA is also in the process of surveying doctors about the types of Da Vinci robot surgery complications they may have seen. The survey was launched after the FDA noted a growing number reports in its adverse event database that detail possible Da Vinci surgery robot injuries, including some 70 deaths since 2009.
[bloomberg.com/news/2013-02-28/intuitive-surgical-robots-probed-by-u-s-in-survey-of-surgeons.html; Bloomberg.com, February 28, 2013]
About Wright & Schulte LLC
Wright & Schulte LLC, an experienced personal injury firm, is dedicated to the belief that America's legal system should work for the people. Every day, the attorneys of Wright & Schulte LLC stand up for the rights of people who have been injured or wronged and fight tirelessly to ensure that even the world's most powerful corporations take responsibility for their actions. If you're looking for a law firm that will guarantee the aggressive and personal representation you deserve, please do not hesitate to contact Wright & Schulte LLC today. Free case evaluations are available through yourlegalhelp.com or by calling 1-800-399-0795.
Contact:
Wright & Schulte LLC
812 East National Road
Vandalia, Ohio 45377
1-800-399-0795
http://www.yourlegalhelp.com