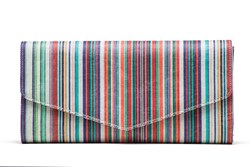 We are excited to bring this sale to our customers while giving them the chance to save on a collection of website-only items. - Jill Fraser, co-founder of Jill Milan
San Francisco (PRWEB) July 29, 2013
Jill Milan®, a provider of designer Italian handbags, today announced its Summer & Sample sale. Some items are available at prices as much as 75 percent off normal levels.
"We are excited to bring this sale to our customers while giving them the chance to save on a collection of website-only items," said Jill Fraser, co-founder of Jill Milan. Sale items are available from the Jill Milan website at http://www.jillmilan.com/summer2013.
The Jill Milan collection is made entirely in Italy by Italian artisans using Italian materials. Features include hand stitching and metalwork handmade by craftsmen who create jewelry for Europe's leading luxury brands. All Jill Milan products are free of animal-based materials such as leather, fur and wool.
Jill Milan handbags have become favorites among celebrities for red carpet events in Hollywood, New York and Europe. Celebrities carrying Jill Milan include Academy Award recipients Anne Hathaway and Jennifer Lawrence, actresses Eva Longoria, Hailee Steinfeld and Kerry Washington, and singer Carrie Underwood. Jill Milan handbags have also been praised by influential fashion media, including W Magazine and The Zoe Report.
About Jill Milan
Jill Milan is a provider of luxury Italian handbags and fashion accessories. Made of exquisite materials, Jill Milan products are crafted in Italy by artisans who have created handbags and accessories for some of Europe's best known fashion houses. All Jill Milan products are free of animal-derived materials, and the company contributes to animal-welfare organizations. Jill Milan is the only luxury handbag line entirely free of animal-derived materials which regularly appears on Hollywood's red carpets. Visit Jill Milan on the Web and follow Jill Milan on Facebook.
Jill Milan and the Jill Milan logo are registered trademarks of Jill Milan LLC, and are protected by trademark laws of the United States and other countries. Academy Award is a registered trademark of the Academy of Motion Picture Arts and Sciences. All other product and company names are trademarks or registered trademarks of their respective companies.