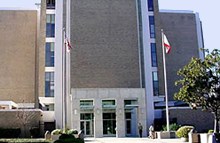 Judges do not deny allegations, but seek to have lawsuit dismissed based on immunity
San Francisco, CA (PRWEB) July 29, 2013
On July 28, 2013, Plaintiffs Salma Merritt, Beatrice Pacheco-Starks and David Merritt filed an Amended Complaint which adds Civil Rights Violations along with Obstruction of Justice and Equal Protection Violations against four Santa Clara Superior Court judges who were served by U.S. Marshals in May 2013 with the original complaint. Merritt et al vs. Kevin Mckenney et al, CV 13-1391-JSW (Northern District of California).
The complaint alleges that Judges Mckenney, Pierce, Manoukian and Cain each plotted with court room staff as well as private lawyers to ensure that the Plaintiffs were not afforded disability accommodations so that they would not be able to participate in certain court proceedings which were pending before these judges in Santa Clara Superior court in California.
The complaint has allegations of conversations that the judges had among themselves in order to ensure that courtroom staff would not make determinations in regards to how persons with disabilities were to be treated when participating in proceedings. It names Georgia Ku as the ADA Coordinator who was employed to make such determinations, allegedly give her authority away to the judges to do her job for her.
According to the lawsuit, the Plaintiffs were targeted by these judges after they achieved a few victories before the California Court of Appeals in 2012, which in part, ordered the disqualification of Judge James Stoelker, one of the judges colleagues and friend.
Court records reflect that the case was filed in Federal Court in San Jose, California; however, because all of the federal judges had previously been Santa Clara Superior court judges, they disqualified themselves and the case was transferred to Judge Jeffrey S. White, a Bush appointee.
The defendants have filed several pleadings, none of which denies the allegations or claims, but argue that judges have absolute immunity no matter how egregious their actions are.