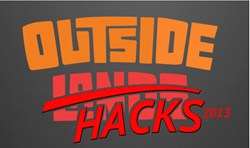 Producer Travis Laurendine says: "We are pushing the limits of hackathons by partnering with live events that serve as a natural incubator for the products hacked together the weekend before."
San Francisco, California (PRWEB) July 29, 2013
Applications are now being accepted for Outside Hacks: the first official Outside Lands hackathon, which will take place on August 3-4. New Orleans-based CODEMKRS is producing the event after creating successful hackathons for this year's Superbowl, the New Orleans Jazz and Heritage Festival, and most recently producing Hackeroo for the Bonnaroo Music and Arts Festival.
In the 24-hour event, which runs from Saturday afternoon to Sunday afternoon, selected teams of web developers and designers will compete for a chance to win the ultimate Outside Lands experience and the opportunity to continue to incubate their product from inside the festival. Their challenge is to come up with ways to improve the experience for artists and fans. An additional elite hacking competition taking place within Outside Hacks will feature a first-of-its-kind "Live Stage Hack."
Winning teams will have the opportunity to use Outside Lands itself as an avenue to bring their apps to life in a real-world scenario teeming with diehard music fans. The producers of the hackathon will serve as connectors for the winning teams linking them with relevant people and companies to help them validate their products inside Outside Lands. This is counter to a traditional hackathon, since most hacks that get made at hackathons never see the light of day. This concept was tested out at this year's Bonnaroo by CODEMKRS and the lessons learned there are being incorporated into this hackathon.
Prizes and Schwag will be awarded from Outside Lands, Dolby, Gracenote, Facebook, Google, Github, Mashery, Aqua Hydrate and more. Additionally engineers from Facebook will be on site at the hackathon and the winner of their prize will get a meal on Facebook HQ and a meeting with Facebook employees with the intent of helping scale the hack into a more polished product. More information can be found on the application page: http://outsidehacks.com/. Registration is free for those applicants selected and food and drinks will be provided for the entirety of the event.
The finalists will be announced at the end of the hackathon and this will earn them a slot demo'ing their hacks to a panel of elite judges from the technology and music industries. This awards event, which is powered by Dolby, will take place August 7th at The Independent and will culminate in a performance by a Grammy-winning band.
Who: Outside Lands presents, produced by CODEMKRS, powered by Dolby and Gracenote
What: Outside Hacks: the first official Outside Lands hackathon
When: Saturday, August 3rd at 3:00 pm through Sunday, August 4th at 3:00 pm
For more information and to apply: http://outsidehacks.com/.
For more information about Outside Lands visit http://sfoutsidelands.com or download the official apps.
For more on CODEMKRS visit http://codemkrs.com.