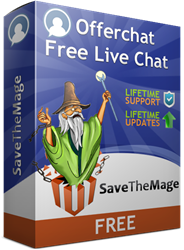 Los Angeles, CA (PRWEB) July 29, 2013
If there's one thing marketing should be, it should be centered on the brand's users or customers.
A recent interview with an Offerchat user, David Buell, published on the official Offerchat blog translated into a fruitful user relationship that resulted in the creation of the Offerchat live chat for Magento.
David Buell, co-owner of SaveTheMage.com, uses live chat on his company website to accommodate online visitors and potential clients. The company specializes in Magento eCommerce services: David and his partner customize, build, and manage tons of Magento stores every day.
The two companies, Offerchat live chat and SaveTheMage.com, found common grounds in their commitment to their product users and clients. Both companies put heavy value on direct online customer support through live chat for eCommerce, manifesting customer or user priority.
David and his partner are the representatives, developers, support agents, and owners of SaveTheMage.com. -- something that a lot of small business owners can very much relate to.
To influence other web entrepreneurs to become exceptional at providing user support, David created a free downloadable Offerchat live chat Magento extension for all eCommerce business owners active in the platform.
The live chat extension for Magento stores carries the same chat features available to all Offerchat users:

Unlimited chats
Unlimited websites
Web based dashboard
Site visitors & agent reports
Free, unlimited use
For instructions on how to add the live chat extension to a Magento store, please visit the SaveTheMage free Magento extensions.
Many small business owners today find themselves caught up in an overwhelming list of business duties. These duties take many forms and range from marketing and promotions, to actual business operations, down to maintaining a good relationship with various people including their customers.
The options available online to execute these duties successfully are innumerable.
Through live chat, online business owners using the Magento eCommerce platform can cut costs and inconveniences by making customer service direct and literally done "on-site".
The result is increased sales due to the reduction of abandoned carts and provision of personalized information to inquiring shoppers as they want it.
About Offerchat
Offerchat is an online one-to-one live chat tool for retailers, merchants and eCommerce business owners who must turn more site visitors into paying customers.