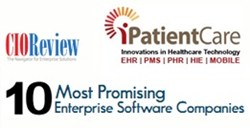 At the core of iPatientCare's outstanding success is its software engineering excellence and high quality of services/support.
- Udayan Mandavia, CEO
Woodbridge, NJ (PRWEB) July 30, 2013
iPatientCare, Inc., a pioneer in mHealth and cloud-based ambulatory EHR and integrated Practice Management solutions announced the inclusion of iPatientCare as one of the nation's 10 most promising enterprise software companies by CIO Review magazine.
CIO Review, a technology magazine that talks about the innovative enterprise solutions, brings to its readers CRTech10 - a list of 10 high value enterprise software companies that are winning over CIOs and in turn driving growth for their clients. Having been closely scrutinized by a distinct panel of judges including CEOs, CIOs, CXO, analysts and CIO Review editorial board, iPatientCare is one of those names that is disrupting the industry and heralding a new era for enterprise software.
The CIO Review team said in its July 3, 2013 issue, "U.S. healthcare reforms have been focused on enhancing quality of care and reducing per capita costs to keep America competitive globally. Educating physicians and their colleagues to utilize computers at the point-of-care, while they treat their patients, is indeed a tougher bullet to bite. iPatientCare stands tall in this space because of its prestigious clientele that includes NASA Space Medicine; U.S. Army, Department of Defense; numerous hospitals and health systems; professional academies of physicians; numerous Regional Extension Centers; and more than 25,000 physicians and their colleagues using iPatientCare for more than a decade."
In his interview to CIO Review, iPatientCare, Inc's. President/CEO, Udayan Mandavia interviewed said, "iPatientCare has emerged as one of the visionaries of the U.S. healthcare IT products and solutions market place. At the core of iPatientCare's outstanding success is its software engineering excellence and high quality of services/support. Few other facts that matter the most to physicians, namely, (a) availability of cloud-based EHR and practice solution on iPads and iPhones, (b) no upfront fees and restrictive, fixed length contracts, (c) affordable monthly subscription fee on a pay-per-use model, and (d) excellent implementation, training, and ongoing support, on almost 24x6 basis. iPatientCare has delivered on all fronts to truly delight its customers."
"The R&D team at iPatientCare clearly understands that the medical community is always evolving, which is why iPatientCare continually enhances its product suite to meet these demands and keep the practices in compliance with the new standards. Because of their technical expertise and industry foresight, iPatientCare has catapulted into the major league in the industry.", concluded the CIO Review team.
About iPatientCare
iPatientCare, Inc. is a privately held medical informatics company based at Woodbridge, New Jersey. The company is known for its pioneering contribution to mHealth and Cloud based unified product suite that include Electronic Health/Medical Record and integrated Practice Management/Billing System, Patient Portal/PHR, Health Information Exchange (HIE), and mobile point-of-care solutions that serve the ambulatory, acute/sub acute, emergency and home health market segments.
iPatientCare 10.8 is compliant with the ONC 2011 Edition criteria and was certified as a complete EHR in accordance with the eligible provider certification criteria. Full certification details can be found at https://www.cchit.org/show-onc-cert?certid=a055000000D3BH1AAN. iPatientCare 10.8 is also certified in CCHIT's separate and independently developed certification program and is a CCHIT Certified® 2011 Ambulatory EHR additionally certified for Child Health.
The company has won numerous awards for its EHR technology and is recognized as an innovator in the field, being a pioneer to offer an EHR technology on a handheld device, an innovative First Responder technology to the US Army for its Theatre Medical Information System, the first to offer a Cloud based EHR product. iPatientCare is recognized as one of the best EHR and Integrated PM System for small and medium sized physicians' offices; has been awarded most number of industry Awards; and has been recognized as a preferred/MU partner by numerous Regional Extension Centers (REC), hospitals/health systems, and academies.
Visit http://www.iPatientCare.com for more information.
-- END --
Contact:
iPatientCare, Inc.
One Woodbridge Center, Suite 812, Woodbridge, New Jersey 07095
Phone: 800-741-0981 | Fax: 732.676.7667 | Email: info(at)ipatientcare(dot)com