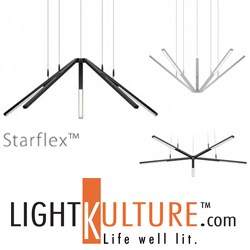 Sonneman offers a complete range of sizes within a series that expand the options throughout any floorplan.
Los Angeles, CA (PRWEB) July 30, 2013
Lightkulture.com is pleased to offer Sonneman - A Way of Light.
Robert Sonneman has been a pioneer in the field of modern lighting for over four decades. His sleek, functional lighting designs from the late 60's and 70's have become classics. "We are so excited to offer the Sonneman lighting collection. Robert Sonneman is one of the true visionaries in our field. He has made a lasting name for himself as an American designer with international appeal," noted Susan Inderbinen President of LightKulture.com. Since 2003, Sonneman - A Way of Light has grown from its initial assortment of table lamps and floor lamps, to a comprehensive brand, offering a full range of portable lighting, pendants, chandeliers, wall sconces and bath lighting. Sonneman - A Way of Light now offers a portfolio of over 300 families of lighting styles, with over 30 finishes to choose from.
The collection offers a range of styles for the sophisticated consumer who looks to the future with a connection to the past. You can see this design philosophy present in a number of the new 2013 collections, such as Level and Sky, Chelsea, Gotham and Tribeca all have an Urban edge to them. Other lighting solutions revolve around new lighting technology and energy efficient LED sources. Corona is a floating circular ring of LED light, that provides both the presences and absence of volume. Starflex transforms its shape at the touch of a finger, to adjust the 5 glare free LED arms in a coordinated star-like movement. The versatile Wands series offers a number of options, available in multiple configurations. With so many creative solutions, it has been a challenge to narrow down the assortments to offer online. Sonneman's collections range from warm contemporary, to ornamental modernism and modernist styles. These collections not only offer signature Robert Sonneman design, but are also a great value.
For more information go to Sonneman - A Way of Light http://www.lightkulture.com/m-92-sonneman.aspx.
Sonneman - A Way of Light, Now Available at LightKulture.com
"I am an avid reader. If I am not looking over catalogs or blueprints, I'm reading magazines, ebooks or a hardcover best seller. The latest Sonneman collection is a good read, a page-turner that I could not put down. Robert Sonneman is one of a handful of recognizable designers who has made a name for himself around the world, for his fresh approach to modern lighting design. Many of our design clients appreciate how the Sonneman Collection uses hints of subtle design elements that compliment the theme of an interior design. Currently we are proposing the Corona series for casual dining restaurant. The 19 watt dimmable LED fixtures in satin aluminum with white etched acrylic, are a perfect compliment to the contemporary interior and healthy menu. With 4 different size options, were able to repeat the theme in smaller area's of the dining room and lounge area. Sonneman offers a complete range of sizes within a series that expand the options throughout any floorplan. I find the line offers tremendous style and exceptional quality and value," noted Susan.
About LightKulture.com
At LightKulture.com our mission is to offer the finest energy efficient contemporary lighting and light fixtures from around the world. We have assembled an exciting collection of the industries most innovative decorative and architectural lighting. We are proud to offer lighting solutions for both your home and work-life environments. Simplicity in design is complicated, function makes it last. Be inspired by our range of essential designs from well respected American and European manufacturers. In today's world, energy efficient lighting is as important as eco-friendly or green lighting fixtures, such as LED or CFL lighting. We offer the very best energy efficient lighting and light fixtures, both high value LED lighting fixtures and CFL lighting fixtures in modern and contemporary styles that provide quality, innovation and authenticity.
LightKulture.com
http://lightkulture.com
Email: sales(at)lightkulture(dot)com
Tel. 941-330-0422