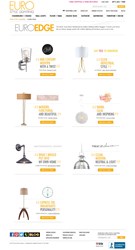 Must-have style picks from today's leading voices in modern design.
Los Angeles, California (PRWEB) July 30, 2013
California-based modern lighting and decor shopping site EuroStyleLighting.com announces Euro Edge, a new online resource designed to help consumers find modern style inspiration with the aid of style picks from seven of the nation's leading modern design influencers: Kelly Beall, Justina Blakeney, Caitlin Flemming, Kirsten Grove, Victoria McGinley, Trina McNeilly, and Liz Stanley.
For this project, each influencer was invited to specify ten must-have products available on EuroStyleLighting.com. Appended with quotes about their choices, these carefully curated selections afford readers an intimate view into each influencer's taste, personality and approach to design. Consumers can freely treat these top-ten lists as cohesive style guides, or cherry-pick items as inspiration for their own home design projects. The landing page for Euro Edge can be found at EuroStyleLighting.com/EuroEdge/.
"We are excited to partner with each of these influencers," explains Cori Magee, Design Expert with Euro Style Lighting. "Bringing unique perspectives from across the nation, their eye for great design is evident in both their individual websites and in their contributions to our Euro Style Blog. With Euro Edge, we get an intimate glimpse into the designs each influencer likes, why they like them, and how they envision using them at home."
Following are the Euro Edge contributors and insight into their involvement with the project:
Kelly Beall (Design Crush)
"I'm such a fan of Euro Style Lighting that joining the Euro Edge campaign seemed like a no brainer," explains Oklahoma City based Graphic Designer Kelly Beall. "Euro Style Lighting has a wonderful selection that covers several styles, making the site a go-to for lighting solutions and beyond. I have several of their pieces in my own home and know I'm sure to add more in the future." For her Euro Edge selections, Kelly draws on metals and woods: "My aesthetic is mid-century modern with a twist." See Kelly's picks.
Justina Blakeney (JustinaBlakeney.com)
"It's all in the details: hardware, lighting, the personal items—it's these things that make an interior truly shine." L.A-based creative consultant, designer, author and stylist Justina Blakeney explains, "I decided to be a part of this campaign because I love to pay homage to and share these little beautiful details that, I believe, are like a home's jewelry—and what is a great outfit without some beautiful bling to go along with it?" About her selections for Euro Edge, Blakeney explains, "I have a sleek side, a quiet side, a bold side, a playful side, a quirky side...Each of these items speaks to me because they reflect a part of who I am." See Justina's picks.
Caitlin Flemming (Sacramento Street)
"Euro Style Lighting has been a go-to site that I've sourced from for my own home and client's home," says San Francisco-based designer and stylist Caitlin Flemming. "It seemed like a natural fit to be part of this amazing campaign to showcase a handful of pieces that I love on the site." About determining which selections to include on Euro Edge, Caitlin explains, "I thought about what I would put into my own home…From beautiful chandeliers to rustic outdoor sconces." See Caitlin's picks.
Kirsten Grove (Simply Grove)
"Being an Interior Decorator, I am constantly on the hunt for new and fresh pieces and ideas to incorporate into my projects," says Idaho-based interior stylist and blogger Kirsten Grove. "Euro Style Lighting has one of the best lighting selections available! With so many options to choose from, it makes my job easy. So participating in Euro Edge was an overall easy decision." On her Euro Edge selections, Kirsten explains, "lighting, furniture pieces and accessories that together create a modern, functional and beautiful space." See Kirsten's picks.
Victoria McGinley (vmac+cheese)
"Euro Style Lighting is so much more than just a lighting company," says New York-based blog editor and design consultant Victoria McGinley. "I was very surprised to see the large selection of furniture and home accessories they offer, making them a great resource for anyone looking to decorate their home (even if they're on a budget!). But, make no mistake, they're true to their name as well -- any type of lighting you need, they're guaranteed to have it, and at a great price too." Victoria's Euro Edge selections are especially appropriate as she and her husband recently relocated from California to New York City: "We're looking to create a clean, modern, neutral and light feeling, with lots of furniture and lighting options that help save space but don't forgo style." See Victoria's picks.
Trina McNeilly (La La Lovely)
"I'm thrilled to join Euro Edge as I know it is another avenue to share great décor and design finds," says Illinois-based freelance writer and design scout Trina McNeilly. "Sometimes it's hard to navigate through every product or put several pieces together to create a cohesive look. Euro Edge is a great way to shop trending looks and styles." Describing her Euro Edge selections, Trina says, "Think lots of white, natural woods, industrial lighting, bohemian textiles and modern shapes." See Trina's picks.
Liz Stanley (Say Yes to Hoboken)
"I love decorating and exploring combinations of interesting, modern, yet classic styles for our home," explains San Francisco-based blog founder and editor Liz Stanley. "My collaboration with the Euro Edge campaign is all about bringing those styles to life in a real home." On her selection for Euro Edge, Liz says, "I'm always drawn to a mixture of sleek industrial style with a modern, colorful pop of color." See Liz's picks.
New influencers will be added periodically as Euro Edge continues to provide consumers with trending style picks from the hottest voices in the contemporary and modern design community. Additionally, consumers can look to the individual influencers for more in-depth description about their picks on their individual websites. For the latest Euro Edge news, consumers can follow Euro Style Lighting on Facebook, Twitter, Pinterest and Houzz.
About Euro Style Lighting
Los Angeles based Euro Style Lighting is an online retailer specializing in contemporary lighting fixtures and lamps for the home. The company also offers furniture and home décor, ranging from today's newest designs to ultramodern style. The Euro Style Lighting buying team sources fashion forward designs from across the globe to offer customers a collection of competitively priced products that emphasize aesthetic value, quality and – with a growing selection of LED and fluorescent lights – energy efficiency. Featured designers include Karim Rashid, Holtkoetter, Robert Sonneman, Jonathan Adler and more. More at EuroStyleLighting.com.