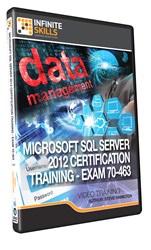 Study For The MS SQL 70-463 Exam
(PRWEB) July 31, 2013
Software training firm Infinite Skills Inc. this week introduced its "Microsoft SQL Server 2012 70-463 Certification Tutorial," a course providing all concepts and information tested in Microsoft's entry-level Microsoft Certified Solutions Associate (MCSA) exam.
Microsoft SQL certifications range from the associate to the masters and architect designations. The 70-463 is the associate-level exam for the data warehouse implementation specialization.
Infinite Skills' Microsoft SQL Server 2012 70-463 Certification Training Video covers all the information professionals need to pass this entry-level exam and master the basics of database administration with SQL 2012.
Microsoft SQL Server 2012 70-463 Certification Video Training
Course author Steve Hamilton is a database management specialist with 20 years' experience working with Oracle, Sysbase, and SQL Server. He has consulted for a number of Fortune 500 companies including TD Ameritrade and ConAgra. He currently runs a consulting company, Database by Design, and trains locally and internationally.
"The heart and soul of this particular exam is Visual Studio," Hamilton says. "We'll cover everything pertaining to this test, going in-depth with information pertaining to data flow tasks."
After an introduction to data warehouse concepts, architecture, and solutions, Hamilton explains the basic hardware issues relating to data warehouse architecture before providing an overview of the process of designing and implementing a data warehouse design.
After the initial introduction the course movies on to give an in depth view of data warehouse design and implementation, beginning with data sourcing and data flow, and moving into control flows, working with dynamic packages, and containers.
Other chapters cover troubleshooting and debugging, data quality issues, master data services, and much more.
Even for database managers not taking the exam, this course is great for learning SQL server integration services. It teaches how to build services and how to deploy your package to an integration services catalogue and then bring it into a database where you can run it as a nightly routine.
Free demo videos and a full list of course contents can be found on the Microsoft SQL Server 2012 70-463 Certification Video Training page of the InfiniteSkills website:
http://www.infiniteskills.com/training/microsoft-sql-server-2013-certification-training-exam-70-463.html
InfiniteSkills offers its Microsoft SQL Server 2012 70-463 Certification Tutorial either as a DVD or a direct download from the company website at a retail price of $99.95. All InfiniteSkills titles and formats are compatible with Mac and Windows operating systems. Shipping is available around the globe. Additionally, InfiniteSkills tutorials are supported by project files which correspond to examples in the videos, allowing users to work alongside experienced instructors right on their computer or iPad.
About InfiniteSkills Inc.
A leader in the field of software training, InfiniteSkills strives to offer the highest quality training available at an affordable cost. InfiniteSkills tutorials are task-oriented instructional videos, teaching complex skills by providing hands-on examples and guiding users as they carry out critical objectives. InfiniteSkills offers a comprehensive range of software titles available as DVDs, digital downloads, and in iPad editions, keeping with company aim of delivering professional training to customers anywhere they want to learn.