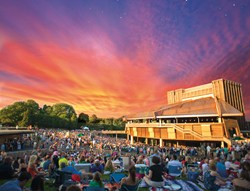 Vienna, VA (PRWEB) July 29, 2013
Ke$ha
Warrior Tour
With Special Guests Mike Posner and Semi Precious Weapons
Monday, August 12, 2013 at 8 pm
$38-$48
Wild pop princess Ke$ha makes her Filene Center debut with smash hits like "Tik Tok" and "Your Love is My Drug." Born in Los Angeles as Kesha Sebert, she began her career working with The Veronicas, Britney Spears, and Katy Perry. In 2009, Ke$ha was featured in Flo Rida's single "Right Round," helping launch her career. Her debut album, Animal (2010), achieved great commercial success, hitting the top of the Billboard 200, garnering platinum status, and featuring the singles "Blah Blah Blah" and "Take It Off." Ke$ha followed up her debut with 2010's Cannibal, an album that included the popular party anthems "We R Who We R" and "Blow." Her most recent album, Warrior (2012), features the smash hits "C'Mon" and "Crazy Kids."
Video: Ke$ha – "C'Mon" live on The X Factor
Producer/singer/songwriter Mike Posner makes his Filene Center debut with pop and R&B songs that have already been heard across the world. While still an undergraduate at Duke University, Posner began his career creating mix tapes that were heavily influenced by his college experience. After graduating, he released his first album, 31 Minutes to Takeoff (2010), which reached No. 8 on the Billboard 200 and included the well-known singles "Cooler Than Me" and "Please Don't Go." In addition to his own career, Posner has written songs with 2 Chainz, Snoop Dogg, and Justin Bieber. His second album, Pages, is scheduled to be released later this year.
Video: Mike Posner –"Cooler Than Me"/"Please Don't Go"
Making their Wolf Trap debut are Semi Precious Weapons, rockers who are influenced by glam, garage, punk, and new wave funk music. They gained fame when Lady Gaga invited the band to be her opener on the Monster Ball Tour after she heard their first album We Love You (2008). Semi Precious Weapons has garnered success all over the world, with their single "Semi Precious Weapons" hitting No. 1 in New Zealand. When the band isn't busy creating new music and touring, singer Justin Tranter focuses on "Fetty," his jewelry line, which can be found at stores including Barneys New York.
Video: Semi Precious Weapons – "Aviation High"
Huey Lewis & The News
"Sports" 30th Anniversary Tour
Tuesday, August 13, 2013 at 8 pm
$25-$42
Grammy-winning pop/rock band Huey Lewis & The News has been making music for more than three decades. This year, the band will celebrate a major milestone at the Filene Center with the "Sports" 30th Anniversary Tour. The band recently released a special 30th anniversary edition of the album Sports for its many devoted fans. With hits like "Do You Believe in Love," "The Heart of Rock & Roll," and "Hip to be Square," this prolific band has seen five albums reach gold, platinum, or multiplatinum status. Huey Lewis & The News' first No. 1 single was "The Power of Love," which was also nominated for an Oscar in 1985 and was featured on the Back to the Future soundtrack.
An Evening with Diana Ross
Wednesday, August 14, 2013 at 8 pm
$30-$48
Diana Ross - the Guinness Book of World Records holder for Most Successful Female Music Artist in History with 70 hit singles - returns to the Filene Center for the first time in more than a decade. Ross began her career as a member of the Motown group The Supremes, who quickly gained fame in the 1960s. The Supremes saw 12 singles top the Billboard Hot 100, including "Stop! In the Name of Love." After nearly a decade Ross began her solo career in 1969, and one year later she released an eponymous album, which included the smash single "Ain't No Mountain High Enough." The 1970s marked the beginning of an acting career for Ross who starred as Billie Holiday in 1972's Lady Sings the Blues. The role garnered her an Oscar nomination. Ross's most recent album, I Love You (2007), showcases her talent for romantic R&B songs.
Video: Diana Ross – "Ain't No Mountain High Enough"
Grace Potter & The Nocturnals
With Very Special Guest: Trombone Shorty & Orleans Avenue
Thursday, August 15, 2013 at 7:30 pm
$30-$40
With a rock/blues sound all their own, Grace Potter & The Nocturnals are making their headlining debut at Filene Center. Grace Potter & The Nocturnals began gaining attention for their self-produced 2005 album, Nothing But the Water. The band is led by powerful songstress and multi-instrumentalist Grace Potter who was dubbed "the best female rock singer in the country" by USA Today in 2012. The band also features Matt Burr (drums), Scott Tournet (guitar/bass/keyboards), Benny Yurco (guitar/bass), and Michael Libramento (bass/keyboards/percussion). Their most recent release, The Lion The Beast The Beat (2012), peaked at No. 7 on Billboard's Top Rock Albums chart and included the hit single "Stars," which appeared on the Billboard Hot 100 chart.
Video: Grace Potter & the Nocturnals — "The Lion The Beast The Beat"
Trombone Shorty & Orleans Avenue are bringing their exciting jazz crossover music to the Filene Center. Bandleader Trombone Shorty (born Troy Andrews) began playing the trombone in a jazz ensemble in his hometown of New Orleans when he was only six years old. Since then he has served as a member of the world-famous Stooges Brass Band, played alongside U2 and Green Day, performed at the White House in celebration of Black History Month, and received a Grammy nomination with his band Orleans Avenue for their 2010 debut album, Backatown. The group specializes in jazz fusion, combining traditional jazz, soul, hard rock, and hip-hop in a mélange of music as diverse as the Crescent City itself. Trombone Shorty's critically acclaimed follow-up album, For True (2011), features guest appearances from the likes of Jeff Beck and Warren Haynes. The band keeps rolling out the hits, with a new album due this fall.
Video: Trombone Shorty & Orleans Avenue — "St. James Infirmary"
Josh Groban
Friday, August 16, 2013 at 8 pm
$40-$95
Pop-classical singer Josh Groban, known for hits such as "You Raise Me Up" and "Believe," is making his Filene Center debut. The talented Groban began recording music while still a student, and he was offered a major recording contract while studying musical theatre at Carnegie Mellon University. Shortly after, he released his eponymous debut album in 2000. The record reached double-platinum status under the success of two singles: "You're Still You" and "To Where You Are." His most famous single is "You Raise Me Up," a 2004 cover of a song by Secret Garden. The single proved to be a spectacular hit, quickly climbing to the top of the Billboard Adult Contemporary chart. His sixth and most recent commercial smash album, All That Echoes (2013), features a cavalcade of songs, including the haunting traditional ballad "She Moved Through the Fair" and world music staples like "E Ti Prometterò." In addition to his musical career, Groban has also appeared in various TV shows and movies, including The Office, Crazy, Stupid, Love., and the recently released Coffee Town.
Video: Josh Groban — "Remember When It Rained"
ABBA—The Concert
Saturday, August 17, 2013 at 8 pm
$25-$38
ABBA—The Concert promises a joyous homage to the Swedish pop legends. Waterloo, the spectacular cover band behind the event, has given more than 1,000 performances over the course of multiple worldwide tours since it formed in 1996. The members of Waterloo honed their chops on the Scandinavian club circuit in the late '90s. In 2001 they teamed up with sponsors in Denmark and London to create "ABBA – The Concert." The show, a pitch-perfect recreation of ABBA's famously elaborate 1970s performances, seeks to emulate the look and feel of the band's concerts down to the last detail. With nostalgic covers of hits like "Mamma Mia," "S.O.S," "Money, Money, Money," "The Winner Takes It All," and "Dancing Queen," Waterloo deserves the enthusiastic endorsement it received from the official ABBA Fan Club: "the best ABBA since ABBA!"
Video: Waterloo the Band
Tickets can be purchased by calling 1.877.WOLFTRAP or online at wolftrap.org. For more information, call Wolf Trap at 703.255.1868.
High-resolution images of the artists listed are available on Wolf Trap's website: wolftrap.org/Media_and_Newsroom/Photos_for_Publication.aspx.
Wolf Trap is Metro accessible!
Our environmentally friendly Wolf Trap Express Bus travels from the West Falls Church Metro stop every 20 minutes starting two hours prior to show time. For details, please visit wolftrap.org/Plan_Your_Visit/Access_by_Metro.aspx.
###