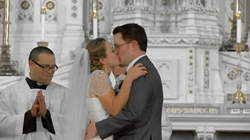 We have proven to be a photo and video vendor to beat and we have done it with great customer service, great cinematography, editing, and commitment to detail
Boston, MA (PRWEB) July 30, 2013
Since high definition became widely available almost a decade ago, McElroy Weddings has offered brides and grooms the best quality wedding cinematography, editing, and service for an affordable price. Now, as new packages and products are added to their already extensive list of offerings, the mission has remained the same.
"My vision when I started McElroy Weddings, has always been to make the world of high definition, cinematic video attainable for our brides," explained Benjamin J. McElroy, owner and lead cinematographer. "We pride ourselves on staying ahead of the curve, but never losing sight of our mission."
In addition to delivery on DVD and Blu-ray, McElroy Weddings now offers the complete edited wedding on portable and sharable thumb drives.
"The biggest request from our brides has always been to make their wedding available to those loved ones who could not attend the wedding," Ben said. "This, in addition to electronic means, is a great way to reach those people."
McElroy Weddings has also expanded their package listings. From packages with additional videographers, special schedules, and photography, any wedding day can get the coverage it needs.
"It's important that a bride can purchase a package that will best cover their wedding day and we have the most competitive rates at our great quality," Ben said.
In fact, McElroy Weddings has now won another Telly Award for excellence in videography and is an annual recipient of the Best of Weddings on the Knot and the Bride's Choice award from Wedding Wire. Both sites feature a litany of 5-star reviews from dozens of ecstatic couples.
"Our reviews speak for themselves," Ben mused. "We have proven to be a photo and video vendor to beat and we have done it with great customer service, great cinematography, editing, and commitment to detail."
To learn more about McElroy Weddings, give them a call or email and they would be happy to have you come in to the studio and meet the team.
ABOUT MCELROY WEDDINGS:
McElroy Weddings, a division of McElroy Films, is an award-winning high definition wedding videography and photography company serving all of Massachusetts and New England. Using excellent and experienced videographers, professional audio, and professional HD cameras such as Canon DSLRs, Sony EX, and Red Scarlet, McElroy Weddings guarantees top quality coverage of every aspect of your wedding day and beyond.
For more information call 1-888-203-2744 or visit http://www.mcelroyweddings.com.