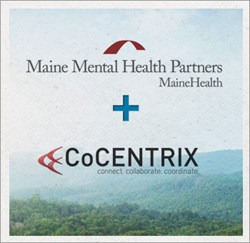 With the CoCENTRIXccp as our integrated platform, we will have a 360 degree view of multiple treatment plans, from multiple providers – all rolled into one single, comprehensive and longitudinal care plan
Sarasota, FL (PRWEB) July 30, 2013
CoCENTRIX, a leading provider of coordinated care solutions to state Health and Human Services and community-based providers, announced today that Maine Mental Health Partners (MMHP) selected the CoCENTRIX Coordinated Care Platform (CoCENTRIXccp) as the solution to manage the Health Records and to coordinate care within and amongst its member organizations across MaineHealth's continuum of care.
The CoCENTRIXccp will provide MMHP with an integrated, ONC-ACB certified Electronic Health Record, Collaborative Case Management, Managed care, and mobile consumer applications – all vital tools for coordinating care within and between Maine Health, community providers and the following member facilities: Community Counseling Center, Counseling Services, Inc., Mid-Coast Mental Health Center and Spring Harbor Hospital and Spring Harbor Community Services.
Most importantly, the partnerhsip between CoCENTRIX and MMHP is catalytic for the state of Maine in implementing a "One Patient – One Record" model.
"With the CoCENTRIXccp as our integrated platform, we will have a 360 degree view of multiple treatment plans, from multiple providers – all rolled into one single, comprehensive and longitudinal care plan," said Greg Bowers, Executive Vice President of MMHP. "By eliminating the silos we can provide a better consumer experience, improve clinical outcomes and reduce the costs for all participants."
The "One Patient –One Record" model will empower MMHP participants with an enterprise-wide Electronic Health Record that promotes consistent practices and protocols to support individualized treatment; build data and reporting infrastructures that allow for measurement and management of performance outcomes; achieve clinical and administrative efficiencies to increase value to all stakeholders; and establish system wide interoperability with MaineHealth and other healthcare systems in the area.
"We are pleased to partner with MMHP to enable this exciting clinical and operational transformation. MMHP will benefit from our openly architected platform approach designed to truly coordinate care at all levels. This Person-Centered approach to care coordination will result in administrative and clinical cost savings, and improved clinical outcomes," stated Leigh Orlov, President of CoCENTRIX. "With the CoCENTRIXccp, MMHP will be able to ensure the same exceptional service is received in every location across their network and improve the lives of the consumers they serve."
"We can now really promote an environment and culture which supports standard outcomes and improvement in patient experience," said Bowers. "Ultimately, with the CoCENTRIX platform, we can give the citizens of Maine better and more timely access to services they need."
About CoCENTRIX
CoCENTRIX is a Behavioral Health software company that provides innovative solutions that connect, collaborate, and coordinate care and services across and amongst Health and Human Services, Education, Justice & Public Safety, Community Service Providers and the Consumers in which they serve. Leveraging over 32 years in Health Services information technology, CoCENTRIX optimizes the entire continuum of care with consumer-centric solutions that automate and significantly improve clinical, financial and operational outcomes.
Our flagship product, the CoCENTRIX Coordinated Care Platform (CoCENTRIXccp), includes an ONC-ACB certified Electronic Health Record (CoCENTRIXehr), Coordinated Case Management (CoCENTRIXccm), Managed Care Solutions (CoCENTRIXmcs), and interactive, mobile consumer applications that further streamline the delivery of services across the entire continuum of care.
Today, MMHP joins more than 500 agencies in 42 states that are utilizing CoCENTRIX technologies to efficiently and cost-effectively coordinate services, maximize stakeholder's investments, and improve the health and safety of the populations they serve.
About MMHP
Maine Mental Health Partners (MMHP) is a network of nonprofit mental health providers committed to building healthier communities by transforming healthcare delivery and service experiences. With the completion of the CareFirst initiative, Maine Mental Health Partners will be positioned to realize its vision of developing a national model of excellence built upon a culture of exceptional care that is demonstrated in every interaction.