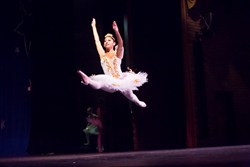 Loris, South Carolina (PRWEB) July 29, 2013
The Coastal Dance Centre of Myrtle Beach is led by Artistic Director Liza Mata and a line-up of regular faculty members and distinguished guest teachers, each one of whom has a different dance background that bring a wide range of skills and challenges for their students. With the training school established in 2005, Ms. Mata established the Coastal Youth Ballet Theatre as Coastal Dance Centre's performing company.
Coastal Youth Ballet Theatre is a non-profit 501(c) (3) dance organization and its mission is to train, inspire and nurture young dancers toward artistic excellence, and to bring the art of dance, through outreach efforts, to new and multi-generational audiences in the community.
The performing company is comprised of a select number of students from the school's pre-professional track who demonstrate potential, are highly dedicated and are seriously committed. As company members, these young people have access to high-caliber ballet training and performance opportunities through professionally-staged productions and educational initiatives.
CMMS Studio recently had the opportunity to work with the Dance Company to film its spring recital held at Socastee High school's auditorium. With a full house, the Company's students performed excerpts from ballet classics such as "Cinderella", "Odalisque" and some contemporary numbers from popular musical plays such as "West Side Story" and "Billy Elliot". The recital covered a broad spectrum of dance disciplines with great emphasis on ballet.
This year the Coastal Youth Ballet Theatre held a special performance of Cinderella in March and will hold a production of "The Nutcracker" in December just in time for the holiday. CMMS Studio has been invited to produce a video of December's performance that will add to the company's promotional material that will highlight the classic training the company has to offer the community.
This year Coastal Dance Centre celebrated Anson Zwingelberg who graduated from the South Carolina Governors School for the Arts and Humanities in Greenville, SC last May and will be attending the Julliard School in New York City. Anson gave a stellar performance during the Spring recital to the tune of "Then…"
Also celebrated this year was Kiely Clark, a graduating senior from St. James High school. Kiely has been a student at the Coastal Dance Centre since 2005 and has performed "Sugar Plum Fairy", "Cinderella" and "Tiger Lilly" in Coastal Youth Ballet's portrayal of "Peter Pan". CMMS Studio had the opportunity to capture Kiely's ballet performance as well as the touching words of encouragement that Ms. Mata gave her prior to the event as Kiely moves on to college and begins a new chapter in her life.
CMMS Studio is happy to participate in the grand opening of Coastal Dance Centre's second studio located right in the heart of Market Common in Myrtle Beach. With their original Murrells Inlet studio serving the southern part of the Grand Strand the second location will serve the northern part thus making Ms. Mata's vision to grow her school and company come to fruition this summer. CMMS Studio will be there to document this event and future events creating Coastal Dance Centre's and Coastal Youth Ballets collection of Alumni memories.
About CMMS Studio
Located in Loris, South Carolina, Custom Multi-Media Solutions, Inc. was founded and incorporated with the objective of providing cutting-edge multimedia services ranging from Photography and Video to Graphic Design at affordable rates to people everywhere. CMMS Studio offers a wide variety of photographic services from Commercial Modeling to General Portraiture. We believe that every customer is unique and has specific needs. We provide personalized attention to all of our clients to help meet their personal budget. Our professionals include a video production team that films weddings, dance recitals and family events as well as producing high quality TV commercial spots, documentaries and industrial/training videos. CMMS Studio offers Graphic Design solutions for small and large business with three designers that can design anything from business logos to signs, brochures, billboards and web sites. No job is too large or too small.