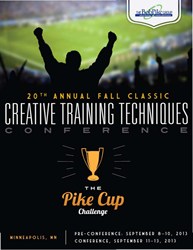 Great Job BPG as always! What a rewarding opportunity to learn new ideas and revisit forgotten ones. Thank you for organizing and developing a conference that is above and beyond the industry standard.
Minneapolis, MN (PRWEB) July 31, 2013
The Bob Pike Group will host its 20th Annual Training Techniques Conference in Minneapolis, MN September 11-13, 2013. Among the many talented trainers and new conference sessions, The Bob Pike Group's international Licensees will be back to share their successes of modeling participant-centered learning in other cultures.
The Bob Pike Group's Australian Licensee, Marc Ratcliffe, MRWED founder and CEO of MRWED, is back with new content and brings a natural charisma and thorough understanding of the participant-centered methodology to his training delivery. Ken Gimm, PhD, PCC, from the Korea Leadership Center will provide numerous exercises and techniques for adding energy to your workshops that can immediately be applied.
Along with 26 new conference sessions, a couple of the other new workshops include:
New Productive Self-Management pre-conference workshop empowers leaders and individuals to embrace accountable behaviors and attitudes in the workplace. It focuses on building people's CORE skills that help reduce job dissatisfaction and turnover.
New Creative Training Techniques: Edge! pre-conference workshop is for those trainers who desire to tip the scale of excellence in their professional growth. This program is for learners who have a solid foundation in participant-centered training methods and who have a strong desire for dynamic training results.
The Bob Pike Group's Training Techniques Conference is a great event that offers proven and cutting edge training techniques and a chance to network with some of the brightest minds and most dedicated trainers in the industry.
More information on The Bob Pike Group's 20th Annual Training Techniques Conference can be found at http://www.bobpikegroup.com/fall.
About The Bob Pike Group
The Bob Pike Group has provided training for trainers and consulting services to individuals and corporations for more than 30 years. Bob Pike is the pioneer of the participant-centered training method and has a well-earned reputation as "the trainer's trainer." More than 125,000 people have gone through his Creative Training Techniques Boot Camp and more than 200,000 copies of his Creative Training Techniques® Handbook have been sold. There simply is no one in the training industry as well known and respected as Bob Pike. The Bob Pike Group trainers take those same methods and passion for learning and funnel them into interactive sessions in any training platform or mentoring format.