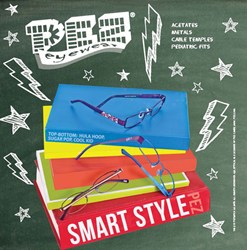 Tough and sturdy, PEZ® eyewear offers a No Questions Asked Lifetime Warranty.
DALLAS, TX (PRWEB) July 30, 2013
A&A Optical announces the release of four new smart styles from PEZ® eyewear: Classmate, Cool Kid, Sugar Pop, and Hula Hoop. The PEZ® collection offers stylish and classic eyewear for children in bright colored plastics, and super tough metals. Cable temples and pediatric fits are available for infants. Tough and sturdy, PEZ® eyewear offers a No Questions Asked Lifetime Warranty.
Smart and trendy style, Cool Kid features a modified oval eye shape with a graphic line pattern on the temples. The metal frame is available in brown, blue, and gun. Size: 44-17-125.
Candy Crush. Bright colored round treats (in orange, red, blue and purple) add a pop of color to Hula Hoop's combination temples. The geometric shaped frame is available in brown, navy, and purple. Size: 44-16-120.
Love is in the air. Modified oval shaped Sugar Pop oozes with heart and vibrant color. Each frame features inside coloring revealed by two hearts combined on the upper temples. Sugar Pop is available in Black (with pink inside coloring), navy (with green inside coloring), and purple (with sky blue inside coloring). Size: 44-16-120.
MARKETING: Now through August 30, receive a FREE PEZ sun frame with each PEZ frame purchased. Back2School POP kits include a POP display and counter cards. PEZ® merchandising materials include an 8-piece display, logo plaque, and counter card. A vibrant colored, candy-shaped eyewear case is shipped with each frame. For more information or to view additional colors and PEZ styles, visit aaopticalco.com.
ABOUT A&A OPTICAL
Established in 1971, A&A Optical offers the ultimate selection of premium eyewear with nine established collections. Each eyewear piece is masterfully created with a focus on lifestyle, fit and quality. From unique, one of a kind looks to European inspired designs; A&A is dedicated to delivering the most innovative products and exceptional customer service to meet the growing demands of the optical dispensary and retailer. Steady company growth has enabled A&A Optical to expand its global product distribution to reach Optometrists, Ophthalmologists and eye care retailers throughout the United States, Canada, Latin America, Europe and the Caribbean.