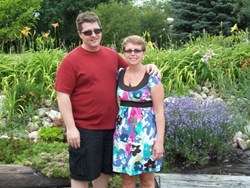 "We are planning a fun event with live music and great raffle prizes for September 22, 2013 in Waukesha, WI," said Nicole Thies owner of FCB.
Waukesha, WI (PRWEB) July 30, 2013
On July 27, 2013 there was a Charity Co-Ed (3 girls and 3 guys) Volleyball Tournament held at Sunset Bowl Entertainment Center. There were over 30 people in attendance and the charity helped raise roughly $400.00.
All of the events were open to the public and all donations and profits raised have gone directly to the "Supporting Jeremy Fund" that Rentapen Inc. (Milwaukee area Manufacturer and Machine Tool Design Company) and FundCrowd Benefits (FCB) created along with friends and family.
Jeremy Dickinson is a U.S. Army Veteran, father, husband, former weight lifter, former CNC operator and laser cutting machine operator for Rentapen Inc. Dickinson did assembly of Rentapen's steel shim packs, and provided customer service to Rentapen's RAPid Tooling Components™ customers.
Jeremy was part of Rentapen for eight years. In the Summer and Fall of 2012 he was returning to school when his symptoms led him to the emergency room and a preliminary diagnosis of Mitochondrial Disease.
Mitochondrial diseases result from failures of the mitochondria. The mitochondria are specialized compartments present in every cell of the body except red blood cells.
Mitochondria are responsible for creating more than 90% of the energy needed by the body to sustain life and support growth. When they fail they produce less and less energy within the cell.
"Rentapen is in the business of fixing things in place and holding them there. Our team is small and dedicated," said Susan Straley, President of Rentapen. "When we heard one of our former team members was hit so hard by the economic and physical hardship of this disease, our team rallied to reach in its individual pockets to fix it. But we wanted to do more, and that is when we teamed up with FundCrowd Benefits to help create some fun events that will raise money and awareness of this disease."
The Supporting Jeremy Fundraising team has developed t-shirts and wristband that are being sold to the public. They have sold a total of 40 wristbands and 20 shirts so far. The team also planned a small bowling tournament that raised over $400.00.
"This team is committed to helping the family in any way possible," said Nicole Thies owner of FundCrowd Benefits. "We are planning a fun event with live music and great raffle prizes for September 22, 2013 in Waukesha, WI."
This event will also be open to the public and will include different music bands featuring local talent.
A web page has been set up to accept donations from those who are unable to make events or who would like to donate; Rentapen's Community Support Page provides information and updates. Some of the funds are being used for alternative therapy treatments that seem to be working well for Jeremy. Before the treatments he was wheel chair bound and unable to dress or bathe himself. Now on most days he is able to provide most of his own self care.
"FundCrowd Benefits would like to thank the following Sponsors: Rentapen Inc, Sunset Bowl, The Cooler, C & C Custom Concrete, Griffin Ford of Waukesha, Krukowski Family Chiropractic, Paul House, and Lana Zildzic for all that they have done to support the event," said Nicole Thies Owner of FundCrowd Benefits.