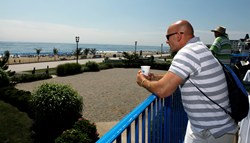 The boardwalks may have been rebuilt, but the homes have not. The beaches may have been restored, but the lives have not. We have a long road ahead to help our veterans recover, and we must work together to help them get back on their feet. - Jack Fanous
Long Branch, NJ (PRWEB) July 29, 2013
More than 250 Veterans and Military Personnel affected by Hurricane Sandy filled the Ocean Place Resort & Spa in Long Branch for the "Rebuild the Shore" Veterans Job Fair to meet with over 70 employers looking to hire veterans. The event was hosted by The GI Go Fund, the organization that has helped tens of thousands of veterans throughout the region find employment and improve their lives.
The only ocean-front job fair in the state, the event also gave veterans and active duty military personnel the chance to meet with colleges and career training institutes to obtain the degrees and skills necessary to land the career of a lifetime.
Long Branch Congressman and current US Senate candidate Frank Pallone attended the event to meet with veterans and lend his support to the GI Go Fund and all the work they have done for veterans throughout the state of New Jersey.
GI Go Fund Executive Director Jack Fanous, whose work in partnering with Mayor Cory Booker to create an innovative partnership in Newark, NJ for veterans that has led to national recognition on ABC's reality show "Secret Millionaire", was also at the event to meet with unemployed veterans and offer his help and support to their efforts to find gainful employment.
"When we talk about Sandy recovery, we have to talk about recovery for our veterans," said Fanous. "Most people don't realize that one in five people who live along the shore are veterans, active duty military, and their families. These strong men and women are the most patriotic among us, but their lives have been uprooted from this terrible storm. The boardwalks may have been rebuilt, but the homes have not. The beaches may have been restored, but the lives have not. We have a long road ahead to help our veterans recover, and we must work together to do everything we can to help them and their families get back on their feet."
The GI Go Fund has hosted countless hiring events within New Jersey, linking thousands of veterans to employers from throughout the region looking to hire our former military members. Through a smarter government approach of utilizing both private sector and local government resources to give veterans pathways to both their benefits and their next career, the GI Go Fund has had a tremendous impact on veterans' lives throughout the region.
Previous GI Go Fund job fairs along the Jersey Shore have been enormously successful. Most notably, their Job Fair at the Atlantic City Convention Center featured over 150 employers and thousands of vets who had recently returned home from Iraq.
Employers have an added incentive to hire veterans thanks to the VOW to Hire Heroes tax credits, which give employers up to $9,600 for each veteran that they hire. Several government agencies were also on site to inform veterans of the various benefits they are entitled to.
In addition, Rockin' Robyn of WRAT 95.9FM was on hand broadcasting live and informing the station's veteran listeners about the great opportunities available at the event.