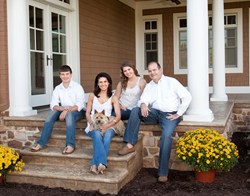 (PRWEB) July 30, 2013
As the weather appears to be cooling down and families start planning to get kids ready for school, it is a great time of the year for family portraits.
August through October are the most popular times in the midwest for family photos. Families have their summer travels all done, the weather is more comfortable, the flowers are still pretty and as we get into fall there is the added pleasure of the fall colors.
But what should a family wear for these two different seasons and looks?
For outdoor portraits, specialist Jim Wyant, Master Craftsman Photographer of Wyant Photography suggest starting with the decision of wearing jeans or khakis. These options make it easier to find the different sizes for a family and help create a casual look for outside scenes.
But finding the best shirts/tops will be a little more difficult. Despite the season a family should make sure to wear solid colors; no patterns, stripes, or busy designs. This will help the focus of the portrait to be on the family itself and not the clothing that they are wearing. The second point to make the portrait more focused on the people would be to make sure to wear sleeves that go over the shoulders or further, again to help pull attention to the faces of the people in the photograph.
The color of the tops would vary depending on which season the family is planning to take advantage of; summer or fall.
The best summer colors would include; blue, green, white and pastels. These colors are more pleasing with the summer greens and summer colored flowers.
For the fall a family should consider; browns, black or burgundy to be complimentary to the fall colors and the fall flowers.
For either season in selecting the colors for the shirts/ tops the family can select to put everyone in the same color, different shades of the same color or use complimentary colors. It can also work well for small families to put the parents in one color and the kids in the family in an accent or complimentary color or to do the same color combinations for the boys and girls in the family.
If the family is a large family or the portrait includes extended family members, this gives a wider range of options. For an extended family each family can be assigned one color so that the individual family groups can be identified in the portrait, or again the family could choose to have boys in one color and the girls in another color or the family could choose a color and ask everyone to wear a shade of that color.
For a larger family group or extended family group it can not be over emphasized that solid colors is very important. The larger family should also be aware that bright colors or florescent colors need to be avoided, especially bright reds, pinks, oranges and yellows.
Wyant Photography with two locations in Carmel and Zionsville, Indiana specializes in family portraits. Their 10 acre portrait park at the Zionsville location includes a creek, pond with a waterfall, old barn and a wide variety of natural scenes. Perfect for the outdoor family photo adventure. During the month of August they also offer 25% off the session of choice. They can be reached at (317)663-4798 or see additional information at wyantphoto.com