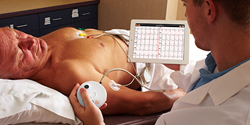 "Diagnostic 12-lead ECG data is immediately available in the EHR, enabling busy clinicians to practice medicine in real-time."
West Bend, Wisconsin (PRWEB) July 31, 2013
The cloud-based Spaulding webECG™ diagnostic 12-lead ECG Management Solution is a break-through application designed to drive out the cost of acquiring, storing and managing 12-lead ECG data. The integration allows the Spaulding webECG application to be launched directly from the Allscripts EHR user interface, supports physician orders, provides immediate access to the 12-lead ECG reports and automatically creates billing information, streamlining physician office workflow.
Brock Heinz, Innovation Leader for Spaulding Medical states, "We applaud Allscripts for leading the effort in creating an open electronic health record, which will benefit everyone involved in healthcare. Breaking down the barriers between systems has created real value for our healthcare clients, as the solution helps reduce errors and streamline healthcare workflows, helping to lower costs."
"As an mHealth platform, webECG also facilitates moving care from expensive areas of treatment to lower cost areas such as the medical home, without sacrificing the diagnostic data that has become the gold standard," states Gary Close, GM and Sr. VP of Spaulding Medical. "Diagnostic 12-lead ECG data is immediately available in the EHR, enabling busy clinicians to practice medicine in real-time."
As one of 15 award recipients of Phase 1 of the Allscripts "Open App Challenge", Mr. Heinz is participating in Phase II of the competition, in which winners will be announced at the Allscripts Client Experience (ACE) annual user conference in Chicago. Approximately 3000 Allscripts users will attend ACE and will have the opportunity to see demonstrations of the Spaulding webECG integration in booth #845 in the exhibit hall. To learn more about the Spaulding webECG, view our video and read the Allscripts blog on the product. Visit booth # 845 at ACE to speak with Spaulding experts and receive a complete demo of the Spaulding webECG management solution.