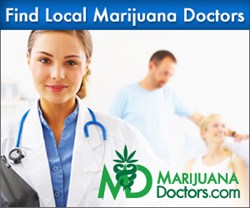 "Each and every patient in Arizona should be able to be situated with a doctor that can compassionate care for them. For that, MarijuanaDoctors is honored to add the Scottsdale Green Cross to our prominent network." - John Nicolazzo, C.O.O. of MD
(PRWEB) July 31, 2013
Servicing Arizona medical marijuana patients for the last few years, the Scottsdale Green Cross has long been considered one of Arizona's finest alternative healthcare clinics in the Southwest. Aside from featuring generalized services in pertinence to marijuana and helping patients become one step closer to obtaining an Arizona medical marijuana card, the Scottsdale Green Cross is a location that is truly humanitarian and solely dedicated to supplying patients with compassionate medicine. This location continues to make great strides towards supplying the Southwest with the treatment options that are thoroughly deserved.
First and foremost, the Scottsdale Green Cross boasts an on-hand staff of some of the most intelligent, understanding and helpful individuals that one can possibly come across. Each and every staff member is trained to address any questions or concerns that are brought forth by any Green Cross patient. Similar to the MarijuanaDoctors' standards of appropriate practices, patients always come first at this location and nothing stands in the way between patients and proper healthcare. Please note that staff members are also designated to assist patients with the processes of filing and submitting the necessary documentation to obtain an Arizona medical marijuana card.
The Scottsdale Green Cross offers to Arizona medical marijuana patients the finest services in alternative, compassionate medicine such as medical marijuana evaluations, medical marijuana recommendations and medical marijuana certifications. The licensed medical practitioner that is boasted through this clinic will properly evaluate a patient based upon any previous and present medical records that support an underlying condition. Not only is this clinic responsible for issuing a compassionate recommendation, but the Scottsdale Green Cross also educates patients on the pros and cons of choosing cannabis as an alternative medicine and helps patients better understand the logic behind this up-and-coming treatment option. Aside from medical marijuana practices, the Scottsdale Green Cross also offers to patients the services of vitamin B-12 injections, IV vitamin infusions, manipulation, vitamin D injections, cupping and acupuncture.
Located right in the heart of the ever-so-beautiful Sonoran Desert, the city of Scottsdale, Arizona is bordered by metropolitan powerhouse, Phoenix to the west and the McDowell Mountains to the east. Recognized as the Southwest's most Western town, Scottsdale is nationally known to be one of the sunniest cities in America. The city typically sees around three hundred days of sunshine a year, making it one of the most sought-after tourist destinations in America. To experience Scottsdale, visitors and residents alike must take advantage of the vibrant energy and urbanized culture that this city presents. As one of the most desirable communities in the entire country, Scottsdale is a great place to operate a business.
Although the Scottsdale Green Cross pays homage to the city of Scottsdale, that does not mean that the extensive patient services supplied by this location are only limited to this area. The Green Cross extends its exceptionally compassionate and professional services to the surrounding towns and communities of Woodleaf, Windemere, Las Villas, Santo Tomas, Paradise Valley and Cinco Soles.
MarijuanaDoctors.com C.O.O., John Nicolazzo, was excited to expand the MarijuanaDoctors network with a reputable addition such as the Scottsdale Green Cross. Nicolazzo said, "This company is constantly searching for more and more reputable marijuana doctors to add to our bolstered network. Each and every patient in Arizona should be able to be situated with a doctor that can compassionately care for them. For that, MarijuanaDoctors is honored to add the Scottsdale Green Cross to our prominent network. The Scottsdale Green Cross represents all of the valued standards and business practices that this company was founded upon."