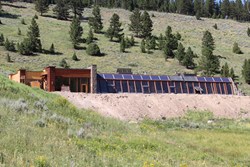 We can live truly sustainable lives in sync with our planet without sacrificing any modern comforts.
Big Sky, MT (PRWEB) July 30, 2013
Seven Directions, a leader in healthy and sustainable living is holding an open house for Big Sky's first Earthship. The open house will be held on August 10th 2013 from 2-5 PM at Lot 27 Michener Creek Rd. Big Sky, MT. Following the open house, there will be a presentation and Q&A with Michael Reynolds, founder of Earthship Biotecture, at 4:30 PM.
Seven Directions teamed up with Earthship Biotecture to create a home that is completely self-sufficient with all the amenities of a modern home. This is a thermal mass passive solar home that generates its own electricity, recycles water, maintains a comfortable climate year-round, and grows its own food. Free from public utilities, the house is entirely off-the-grid.
The on site building of the home, which started in May, was led by Michael Reynolds, a visionary in sustainable architecture. Michael has 40 years of experience refining the science behind these homes, building them in all climates around the world. The core of this home was built in 4 weeks by Earthship Biotecture's team and 30+ interns from all over the world seeking hands-on Biotecture building experience. Seven Directions along with local contractors from southwest Montana completed the home over the next 2 months.
"My goal is to utilize this Earthship as an inspirational and educational tool," says Seven Directions founder Scott Maybee. "We can live truly sustainable lives in sync with our planet without sacrificing any modern comforts."
If you'd like more information about this project, schedule an interview or walk through please e-mail Ryan Maybee at info(at)seven-directions(dot)com, or visit http://www.Seven-Directions.com/BigSkyEarthship. To learn more about Michael Reynolds and Earthship Biotecture, watch the documentary film Garbage Warrior (http://www.garbagewarrior.com).
About Seven Directions
Seven Directions is focused on personal sustainability. Our mission is to help people live healthy and self-sufficient lifestyles. Whether you're looking for fully off-the-grid living solutions or small ways to do more for yourself, we can help you live a better life. To learn more, please visit http://www.seven-directions.com.